SHERIDAN — Mike Tantalo leans just slightly over the bar top at Just LeDoux It Saloon & Steak Out Thursday around 8 p.m., double straining an "Up All Night" shooter into a coupe glass. The vodka and vanilla cold brew cocktail passes through a strainer Tantalo holds over the shaker then through a smaller strainer held over the glass.
As Tantalo tilts the shaker nearly 180 degrees to coax out the last of the drink, the frothy liquid just reaches the brim of the coupe.
"Well, would you look at that?" Tantalo says to no one in particular, proud of himself for the precise pour. His coworkers sarcastically admire his work.
Minutes earlier, Tantalo had performed the same routine, though the glass had only been three-fourths full because he had forgotten the shots of Premium 1890 Vodka. The mistake was an uncharacteristic gaff for the bartender from Las Vegas who calls himself a perfectionist.
Though Tantalo's energy, attitude and standards haven't dipped in Sheridan, his stress level has thanks to LeDoux's patrons and Wyoming's slower pace.
"Imagine all the good sitcom shows where everyone is friendly, but it's a small town," Tantalo said when describing Sheridan. "Everybody knows everybody, and you've got the quirky ones, the funny ones, but everybody is all good-hearted. You can't pay for stuff like that."
On his flight from Denver to Sheridan, Tantalo sat next to a local who rattled off the places he needed to see in and around Sheridan. She gave Tantalo her phone number and offered to show him around whenever he wanted.
"You literally feel like you're part of the family and I wasn't even in town yet," Tantalo said. "It was so cool to see. It's giving me goosebumps."
The 35-year-old, Rochester, New York-native's fellow LeDoux bartenders Noelle McIntire and EJ Salazar had similar moments after flying from Vegas to help LeDoux establish itself as a steakhouse and high-end cocktail restaurant.
McIntire, 33, described her time in town as a "working vacation" and has found the people of Sheridan "refreshing." Salazar, also 33, had seen pictures of the bar and the town but didn't know how his yellow hair, ear gauges and multicolored tattoos stretching from his arms to his neck would be received.
"I thought for sure I was coming into a s--- show just based off the way that I look, and everyone doesn't even care," Salazar said. "... They just want to have a good time and be treated well, and that's what we're here for."
Just LeDoux It Saloon & Steak Out's managing partners and investors came up with the restaurant's concept and asked the LeDoux family for their blessing to use Chris LeDoux's name. The eatery and drinkery got permission and then promised to only carry LeDoux liquors, sourced from the distillery south of Laramie.
The food and drink ideation began in February with the restaurant's director of operations Ryan Kessler and bartender Daniel de Anda Fast creating an intense cocktail menu. When LeDoux opened its doors next to Beaver Creek Saloon on North Main Street in August, it began serving tater tot nachos, USDA prime steak and lobster tail.
The cocktail menu features McIntire's favorite "Up All Night," which includes Bison Union Company's vanilla cold brew. Tantalo likes to make "Thunder Rolls Old Fashion" made of LeDoux's Cinnamon Clove Honey Whiskey, in-house, fresh-squeezed orange juice, spice syrup and chocolate bitters.
Salazar, only a week into his time behind the bar in Sheridan, sometimes has to consult a cheat sheet to ensure he mixes everything together properly. He struggled learning the "Call of the Wild" — a vodka, pinot noir, hibiscus syrup, raspberry and rhubarb reduction and fresh lemon juice combination — but it's his favorite to make now.
"Our cocktails rival what we do in Las Vegas," Salazar said.
And the bartenders have seen an appetite for the bar's multi-ingredient cocktails. They've also heard their clientee voice their appreciation for the restaurant's character. A fluorescent tree greets guests with twinkling, color-changing lights, while cowhide covered bar stools line the bar and stand under high top tables.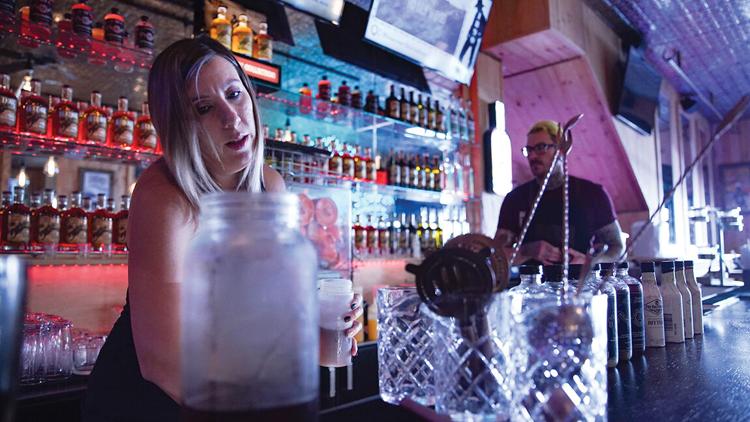 To the right of the entrance, several floor to ceiling mirrors hang behind built-in booths. Uplighting marks the several feet of elevated dance floor, which the bartenders said are used sporadically on the weekends.
"How many places do you know where you can dance on the booths?" Tantalo said. "And it's encouraged?"
"No one's going to ask you to get down," McIntire added.
"Yeah, I'm not going to ask you to get down," Tantalo said and scoffed. "I'm going to ask if you want another drink while you're up there."
On Thursday night, a National Hockey League game plays on one of the TVs above the bar, while the other plays Taylor Swift's "White Horse" music video. Come 8:30 p.m., a Chris LeDoux song takes over the airwaves — the restaurant plays a LeDoux song every 30 minutes until 9 p.m., and after 9 p.m. one plays every top of the hour as an effort from the restaurant's owners to pay homage to LeDoux.
Tantalo checks on a couple drinking wine and eating steak who proclaim the food as "excellent."
"[Sheridan is] very welcoming to new ideas and, not just this concept," Kessler said, "but the people who are coming out here."
Tantalo, Salazar and McIntire arrived in Vegas at different ages after various bartending stops around the country.
Tantalo started bartending on a whim after working in Vegas nightlife as a doorman and host. He trained at and worked for a bartending union in Vegas, earned a spirits certification and has learned everything else he knows through observation and experience.
Salazar started at Vegas' Hard Rock Cafe when he was 17. After turning 21, he began his bartending career. McIntire worked in Vegas for a year, then spent time on the East Coast, working at high-volume nightclubs and high-end cocktail programs in Miami. She returned to Vegas to work at The Cosmopolitan before COVID-19 shut down Vegas' nightlife.
The trio knew Kessler or de Anda Fast and answered phone calls from Kessler inviting them to Sheridan this summer. All three jumped at the chance not only because the venture excited them, but because the coronavirus continues to affect Vegas and impact their careers.
Since arriving, regulars have offered to take Tantalo hunting and fishing. McIntire has collected "amazing stories" she tells her friends back home, and Salazar integrated "easily" into Sheridan's community.
When Tantalo hands over his double-strained "Up All Night" shooter to a LeDoux waiter Thursday, he wipes his hands on his leather-accented mixology apron and chats with Salazar as they wait for more customers and cocktail orders.
They balk at being called "mixologists" and liken themselves more to performers when they clock in at LeDoux and start entertaining customers with conversation and meticulous drink-making.
They love it.
"Not a lot of people are going to make it to Las Vegas, so bringing that out here is so fun," Tantalo said. "They get the experience without having to leave their home."