SHERIDAN — After darkness there is life.
When the lights flick on in the WYO Performing Arts and Education Center after Sean Patrick Higgins' short film "Early Light" debuts next Thursday as part of the WYO Film Festival, he hopes to feel the space stir with the audience's visceral reactions and a yearning for conversation.
"Watching the film, I want to curl up in the back of the theater and not pay attention to what's on the screen but feel the breath of the room," Higgins said. "I'm watching the audience, not the film. I'm glad we made it, but I care more about what it does. 
"Bill T. Jones told me once, 'I hope my work is so beautiful it changes your breath,'" Higgins continued. "I come back to that mantra of his a lot." 
The heartbeat of Wyoming — the Irish-like rolling hills behind CHAPS, the peace and quiet the stars bring when they blanket the mountains during the night and the 12 perfect minutes of dusk the film captured in its closing campfire scene — drew Higgins and his team to Sheridan for 10 days in June 2019 to film what would become "Early Light."
"I don't think Hollywood is making films like they used to where they have grandeur of landscape and they have the land, the earth itself as a character," Higgins said. "I think there's not a lot of reverence anymore for our world."
Wyoming serves as the backdrop for the 17-minute film chronicling two veterans' 24-hour journey battling their post-traumatic stress disorder by turning to the healing power of horses.
Outside of a small army of the script's supporters and a well-timed phone call to Children, Horses and Adults in PartnerShip, Higgins' project grew roots from a life-long appreciation for the indescribable Wyoming landscape and grounds itself in a familial understanding of PTSD. 
Childhood on horseback, adulthood on stage
Higgins recalls sitting on horseback as his earliest memory with his father, Bill.
A Green Beret who served two tours in Vietnam, Bill came home to the horses and their silent empathy. He raised his children on John Wayne films and Golden Age Musicals — Higgins remembers watching "Dances with Wolves" and "The Quiet Man."
The now-New York City- and Los Angeles-based actor, writer and producer, Higgins grew up between California and Wyoming with his three siblings and, at one point, five horses. The family spent summers camping in Yellowstone and visiting Jackson and Laramie, where Higgins' dad went to school. 
Higgins hadn't considered attending the University of Wyoming until his dad told him, "You just have to come look before you make your [college] decision."
The pair drove to Laramie with Higgins' best friend, and both high schoolers ended up going to UW, where Higgins graduated in 2013 with a bachelor's of fine arts in acting before attending Yale School of Drama to earn his master's in 2016. 
He spent time on stage in New York City and appeared in independent films, but always held Wyoming's mountains and horses' peacefulness in his heart. 
When his father passed away in 2017 after suffering a stroke, Higgins' appreciation for horses' healing powers lived on and inspired him to pen "Cowboy: Short Film" as a tribute to his stoic, cowboy father who suffered from PTSD.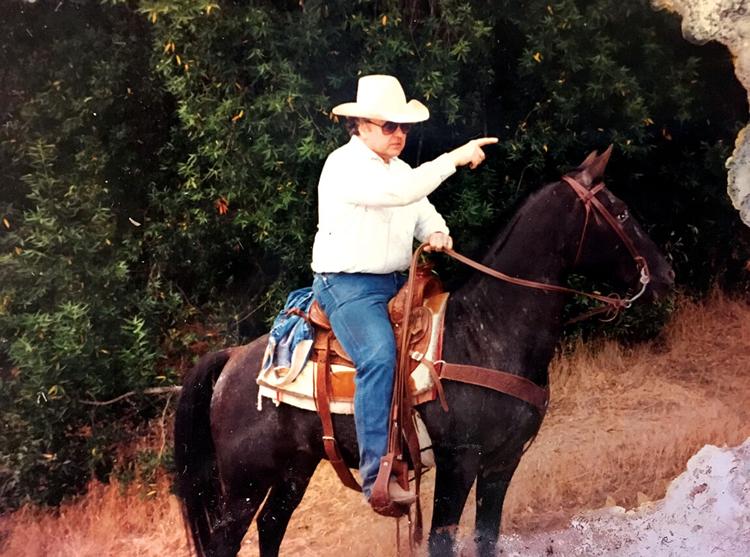 The piece evolved into a more meaningfully written script and, as Higgins considered the film's potential impact, he decided to pursue its production as a short film to shed light on veterans' struggles returning home to a mentally and emotionally safe space.
"How do we have this conversation and embed it in something artistic, something creative, so that people might be afforded the opportunity to have a cathartic experience that opens their understanding," Higgins said, "or makes space for that conversation?" 
"That horse," veteran Josh Townsend says in the early moments of the trailer, "it really helps with that head and heart disconnect."
Kristen Marcus, CHAPS' executive director of six years, understands how horses can mend anything broken between head and heart.  
Marcus remembers she drove her daughter to the airport for a flying lesson in early spring 2019 when a California phone number popped up on her phone. She thought it was strange and let the call go to voicemail then listened to Higgins explain his therapeutic riding, veteran-focused film.
Higgins hadn't even completed his second phone call to another ranch before Marcus called him back, and they chatted for an hour about the project. 
"I feel deep in my soul it was meant to be," she said.  
As a self-proclaimed life-long "horse person," Marcus found refuge in horses in high school and understands their therapeutic benefits because her daughter lives with cerebral palsy and rides as part of her therapy. She promised Higgins the Sheridan community would rally around his cause.
Marcus spearheaded an effort to help fund the 22-person crew's stay at Sheridan College and loaned her personal horse, Legacy, to Higgins to use in the film.
The film, in turn, donated 5% of every dollar raised to CHAPS and funded 24 veterans' participation in the organization's 2019 summer program. 
Marcus had to work with the crew's location requests, as she continued to serve CHAPS' clientele at the barn and in the arena during filming. But she stayed up with the team until 2 a.m. some nights and woke up at 2 a.m. other mornings, wanting to help. 
"Even though it's fictional, [the film] still has the opportunity to spark conversation and to drive people's interest into getting more involved," Marcus said, "and to learn more about how and why [therapeutic riding] works." 
James Brown III read Higgins' first draft of "Early Light," developed under the working title of "Hidden Wounds project," and thought it was a "perfect film" to invoke conversation around all forms of PTSD. 
Though a longtime friend of Higgins, Brown didn't know much about equine therapy and had never traveled to Wyoming from his home base in New York. He remembers arriving in Sheridan and shooting as the seasons changed from spring to summer, while the sky shone blue over the still snow-capped mountains. 
William Dunn, a fellow-UW alumni and college friend of Higgins, grew up in Wyoming for most of his childhood and jumped at the chance to work on "Early Light" even after he spent time in Los Angeles and had soured on movies. 
Dunn has long understood the calm of Wyoming's landscape and remembers how Prema Cruz, who plays equine therapist Amanda in the film, treated the peace with reverence during production and thought "this is how life should be."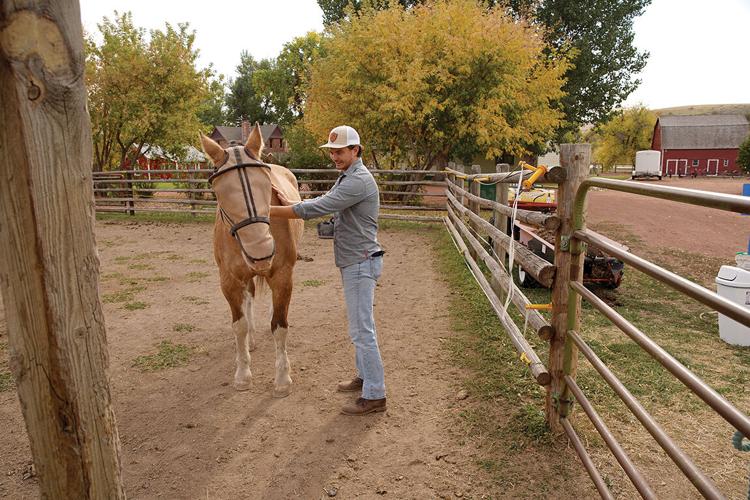 "This is what the world is, it's just nature," Dunn said. "We're just out in this beautiful landscape and it can be so peaceful and calm, if you let it, if you give it a second."
The film's campfire scene marks the end of Allen and Sam's day and the end of the trailer. Veterans who actively participated in CHAPS' program last summer shared their stories with the crew and on-screen, offering the only interruption to the hissing and crackling of the fire. 
Dunn recalls that scene and those moments as his favorite.
"It made the project so much more worth it to see the way it can impact people," Dunn said.  
Brown viewed CHAPS' quiet landscape disrupted only by things like an evening fire as a metaphor for the isolation rape victims, car crash victims or veterans, like his grandfather who served in the Army, might feel with PTSD. 
Emmy-award winning cinematographer Greg Harriott and director Ted Schneider, who appeared in Amazon Prime's "The Tick," along with six other UW students, staff and alumni journeyed to the farm last summer. 
Numerous other Wyoming entities and families rallied around the project and cooperated with Higgins' team, as the whirlwind of the production's 10 days passed in June 2019 and the post-production crew began their work.
Fourteen months later, the Fort Lauderdale Film Festival selected "Early Light" into its lineup ahead of its world premiere at the Rhode Island International Film Festival, where it won the Soldiers and Sacrifice Award in August 2020. 
Just last week, the Yonkers and New Haven film festivals chose the film to appear in their lineups.  
Though the accolades affirm the film's success, and the team focuses its energy and efforts on expanding the 17-minute short film to feature length, the heart of the project still beats on CHAPS' property, in the peace of the horses' tail swishes and foot stomps and in Higgins' mission.
"If there's just one person who sees the film and is inspired by it or can relate to it or it allows them to open up and talk about what they're going through," Brown said, "feels like a bit of a win." 
"I have a huge heart, but my head gets dark sometimes," the film's trailer finishes. 
After darkness there is life. 
So when the lights dim and Allen and Sam's day dawns in "Early Light" at the WYO Performing Arts and Education Center, Higgins hopes his audience will find the film so beautiful it changes their breath and so impactful it stirs conversation.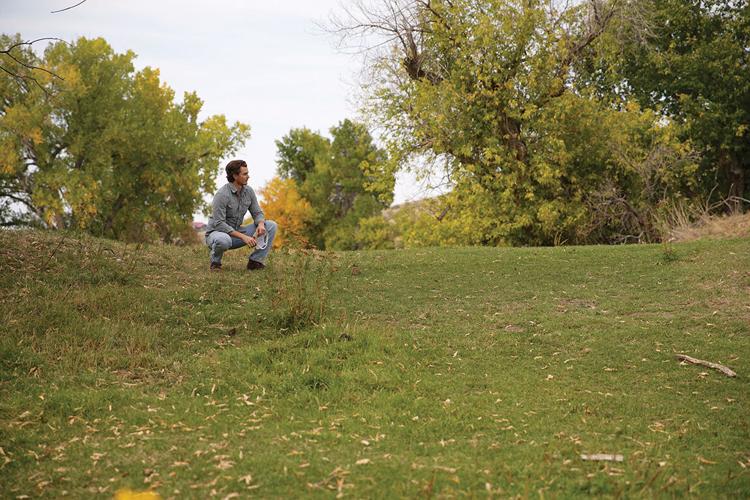 Tickets to the film's Donor Premier Event at 8 p.m. Oct. 1 can be purchased for $20 at www.wyotheater.com. The event will screen "Early Light," host a Q&A with the filmmakers and hold a live auction for an array of items to benefit CHAPS. Doors open at 7:15 p.m.