SHERIDAN — Payments from the Wyoming COVID-19 Business Relief Program's Mitigation Fund have begun to roll out to businesses around the state — including several in Sheridan.
As of Aug. 24, $25.8 million in Mitigation Fund money has been requested by 541 applicants around the state, with $8.8 million approved and $3.3 million paid so far.
Among these applicants are the only two Sheridan businesses that have been paid Mitigation Fund money at this time — Holy Name Catholic Church and Regina Hancock — but more are likely to follow as applications continue to be processed and received.
Neither Sheridan entity would comment on their funds received at this time.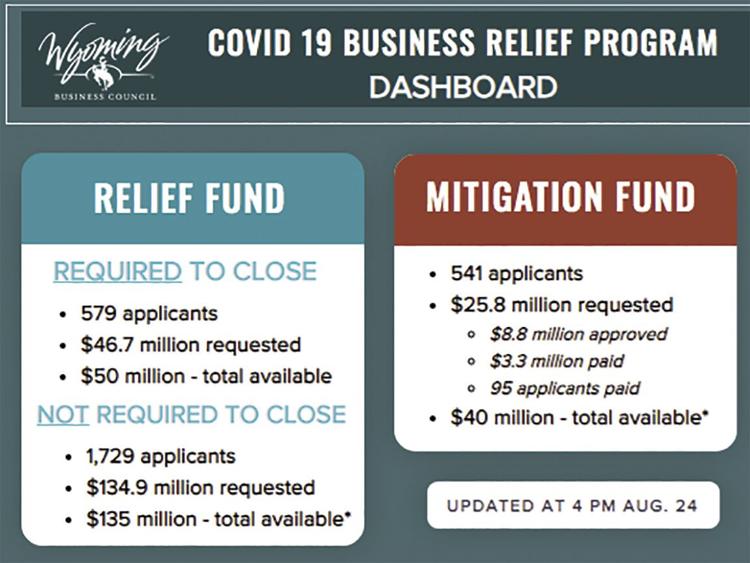 The Mitigation Fund is the second round of COVID-19 money headed to businesses after Interruption Fund money was distributed June 10 through Aug. 3. More than $4.6 million of Interruption Fund money was given to Sheridan businesses.
Mitigation Fund money is slightly different than the Interruption or Relief funds, as all Wyoming businesses or nonprofits of any size qualify for up to $500,000 of Mitigation Funds.
Ron Gullberg, strategic partnerships director for the Wyoming Business Council, said another big difference between the funds is what they are allowed to cover.
"In the Relief Fund and Mitigation Fund, the big difference between the two … is Relief Fund allows businesses and nonprofits to calculate their grant request reflecting losses and expenses, the Mitigation Fund is just expenses," he said.
As of Aug. 24, no Relief Fund money has been distributed to any business in the state.
Gullberg said that applications go through roughly nine checkpoints before a business is able to receive COVID-19 money.
"Initially there's the 'do they meet the requirements of the program rules,' and then there are some checkpoints, like filing with the Secretary of State's office," he said. "The final step is the State Auditor's Office, making sure they're filed with them, and then the State Auditor's Office actually distributes the funding through electronic transfer of funds or cashier's check."
Gullberg said the WBC currently estimates a 21-day time period from application review to receiving payment if approved.
WBC CEO Josh Dorrell said he is glad to see employers, especially those large employers who helped the state's economy get through the pandemic, receiving much needed assistance.
"The Mitigation Fund assistance includes those larger employers that remained operational and kept people safely employed while absorbing health and safety costs they otherwise would not have experienced if not for COVID-19," he said. "Other facets of the Business Relief Programs have, and continue to, address losses and expenses as a direct or indirect result of public health orders."