SHERIDAN — There's an old grave just off one of Sheridan County's backroads that's the subject of an urban legend. The oral rumors depart significantly from historical records, but the overarching sense of tragedy remains intact in both fact and fiction. 
Wayne Hape is a local songwriter with multi-generational ties to Sheridan County. His version of the story, relayed to him from his family, goes like this: 
A pioneer family had a ranch on the property near Wolf, approximately 4.5 miles south of Dayton on Soldier Creek Road. Two young children died of scarlet fever and in a fit of irrationality caused by grief, the father of those children fed their bodies to the pigs. The wife was understandably shocked, and when she confronted him about this, he killed her. She was buried on a ranch hilltop and the man went to prison for murder.
Intrigued by the story and having visited the grave personally, Hape wrote a song that describes a haunting tragedy where love turned to rage. It seems the bulk of this tale is the product of gossip amplified by 100-plus years.
Historical documentation from that time, which includes comprehensive newspaper coverage, court records retrieved from the Wyoming State Archives, and local land records, tells a different story. It goes like this:
Aristocrat and breeder of fine horses Hermann Claussen lived in Sheridan County for 18 years before bringing a bride here from Germany, his fatherland. His new wife, Else, gave birth in November 1910 to premature twins who lived only a few weeks. Both were buried on the ranch on a hilltop overlooking the Bighorn Mountains. No death or burial certificate was obtained for the infants.
The next summer, in July 1911, Claussen came to Sheridan and asked for a crude box in which to bury his wife, claiming she had died of typhoid fever, which had been going around the Dayton community. The people of the town were surprised to hear the news, as no one was aware she had been sick and knew very little about the family in general. This and Claussen's gruff demeanor incited gossip, and the county coroner paid a visit to the ranch on Wolf Creek to investigate.
The coroner discovered the remains had not been buried by the next day and were sitting out in the sweltering heat with blue bottle flies buzzing around. The corpse had not been thoughtfully positioned in the roughbox — the hair was unkempt, and the remains were dressed in a soiled nightgown with one arm not in the sleeve. A week later, the coroner returned with a legal team to conduct a formal inquiry concerning the circumstances of Else Claussen's death. By this time, the body had been buried in a shallow grave on the hilltop near where the infants were laid to rest. The body was disinterred, and an autopsy was performed with no clear determination as to the cause of death. Two physician/surgeons found no conclusive evidence of typhoid fever that day. 
Rumors circulated that Claussen and his sister-in-law, Auguste Vogeler, were making plans to leave the country. Before they made their getaway, both were arrested and tried together for first-degree murder in Sheridan's 4th Judicial District Court. Prosecutors attempted to prove Else Claussen had been strangled so that Hermann Claussen would be free to marry Vogeler. Some speculated Claussen would use his above-average education and resources to get away with his crime, but other theories were that he was completely innocent but unpopular because of his private, antisocial lifestyle.
After a week-long trial and 15 hours of jury deliberation, Claussen was convicted of involuntary manslaughter via culpable neglect. The jury adopted a verdict of compromise that supposed Else Claussen indeed suffered an illness and Hermann Claussen should have called a doctor to the house when it was clear his pseudoscientific "water cure" was not helping. The first-degree murder charge was not accepted, but instead, the jury believed the seemingly inconsiderate burial practices had to do with cultural differences and personality eccentrics. Satisfied with Claussen's conviction, the court dismissed charges against Vogeler.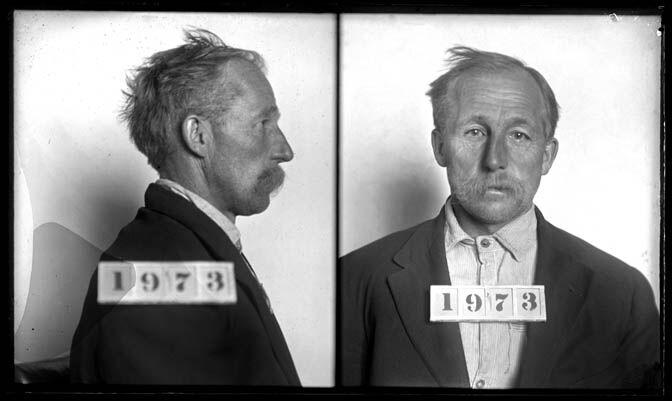 Claussen was sentenced to serve two to six years in the Wyoming State Penitentiary in Rawlins. He appealed, asserting there was great public prejudice against him — extra seats were brought into the courtroom to accommodate spectators during his trial, and more than once, the judge had to rap the gavel and threaten to clear the room because of rowdy audience conduct. He also argued he should not be found guilty if his failure to call a doctor was not done in malice, but because of his personal worldview. The case went all the way to the Wyoming Supreme Court, but his sentence was upheld. Two years after his initial conviction, he served the minimum time and was released.
Hape's oral story account states Claussen returned to Sheridan County and was eventually buried in the cemetery in Dayton. There is evidence he sold his land in 1928, but that's where documentation of his life stops. Official records at that cemetery do not list Claussen, though there are a few unknown graves with illegible headstones. Else Claussen's grave remains on the hilltop, complete with a wire fence and a moss-overgrown concrete headstone. An unmarked but distinguishable pile of grapefruit-size rocks, the grave of her children, is a short distance away. 
Hape said he believes Else Claussen's spirit jealously guards the place her body was buried, exhumed and then re-interred. He said while visiting the site, a friend's sarcastic joke about Else Claussen was supernaturally rebuked.
"He made a really off-taste joke about Else — he has that kind of humor," Hape laughed. "But right when he did, the temperature dropped and this chill wind hit us. It was really bizarre." 
He went on to describe that his friend immediately tripped and fell down the hill, cutting his leg. A rock knocked loose during the fall rolled the rest of the way down and hit Hape's truck parked on the shoulder of the road. 
"We figure it was Else booting him off the hill," Hape said. "If I ever felt the presence of a spirit, it was on that hill. That's my ghost story." 
Along with a ghost story, the history of the first homestead on Claussen Creek makes for a lively urban legend, heartening tragedy or, at the very least, a legal case study.