SHERIDAN — Dozens of students at both Sheridan High School and Sheridan Junior High School got up out of their chairs Friday and walked out of school, joining the scores of students across the country who protested mask requirements during the National School Walkout.
SHS Senior Christian Meza joined a handful of his friends and fellow high-schoolers in walking out of class at 10 a.m., then standing outside the school's front entrance before finally going home.
"I just feel like our country is falling apart," Meza said. "We're supposed to be free."
Meza said he not only participated in the National School Walkout to protest the masking requirement approved Aug. 30, just a day before the start of the 2021-22 school year, by the Sheridan County School District 2 Board of Trustees, but also the announcement of stricter national mandates by President Joe Biden.
"Our president isn't allowing (personal freedoms) anymore," he added. "Masks should be optional. Vaccines should be optional."
Talon Kugler, also a member of the school's senior class, said he believes masking requirements stand in opposition to the country's founding principles.
"America was founded on individual liberties," Kugler said. "Right now, though, that's not where we are."
At same time, Kugler said he has no issue with other students making the decision to wear masks.
"I don't want to wear a mask," he said. "If they want to wear one, go for it."
"There's no judgment here about whether to wear one or not," added senior Justin Longhurst. "This is a free country. It's supposed to be a place where you can choose."
Skyler Mayo, a junior at SHS, said he finds it difficult at times to wear a mask.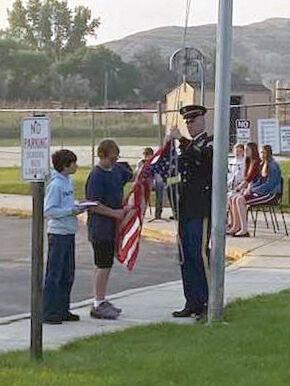 "When we started wearing masks, I couldn't deal with it," Mayo said. "It's extremely difficult to breathe."
Some of the student protestors had the chance to talk with SCSD2 Superintendent Scott Stults, as he walked out of the high school. The conversion included Stults asking the students if they could have found a different way of making their concerns known, rather than by missing class.
"There are different ways," Longhurst said. "But sometimes actions speak louder than words."
Stults told the students he appreciated their efforts to keep the protest respectful and for not disrupting others. However, he said the relatively small number of students who participated in the walkout was also a telling measure of the efforts of other students who look to stay healthy and stay in school.
"These kids are resilient," he said. "They know what they have to do to stay in school. That's what this is really all about."
SHS and SJHS were not joined in the walkout by their fellow students at Big Horn or Tongue River, with those schools not holding classes Friday.
Arvada-Clearmont K-12 School, which normally does not hold classes on Fridays, was in session due to having Monday off for the Labor Day holiday. Yet, rather than join in on the national walkout, the school's student council hosted its annual 9/11 Patriot Day Ceremony.
The event included a performance by the Arvada-Clearmont band, the history behind the ceremony and the attacks on Sept. 11, 2001, by student council president Tamica Smith and vice president Dellana Michelena, and a flag raising assisted by SFC Jeffrey Blascyk from the Wyoming National Guard.
"Afterwards, all students and staff greeted Blascyk and thanked him for his service," said Loyce Ellingrod, counselor and student council advisor.