BIG HORN — Big Horn High School and Tongue River High School athletes returned to outdoor track and field practice Monday following their spring break last week and preparation began in earnest for the schools' first meets of the season. 
Following last year's cancellation of the outdoor track and field season due to the coronavirus pandemic, the upperclassmen Rams, Lady Rams, Eagles and Lady Eagles reminded themselves of their daily, weekly and season-long routines while two classes of runners, jumpers and throwers navigated their first outdoor season. 
Coaches had to remember to enter their athletes into the track and field web portal RunnerCard and hand out uniforms as they similarly recalled their outdoor season duties, practice philosophies and training regimens. Nevertheless, coaching staff and athletes alike return to the rhythms of the outdoor season.
"Just to come back and go back to work feels normal again," Big Horn head coach Kirk McLaughlin said. "It feels great."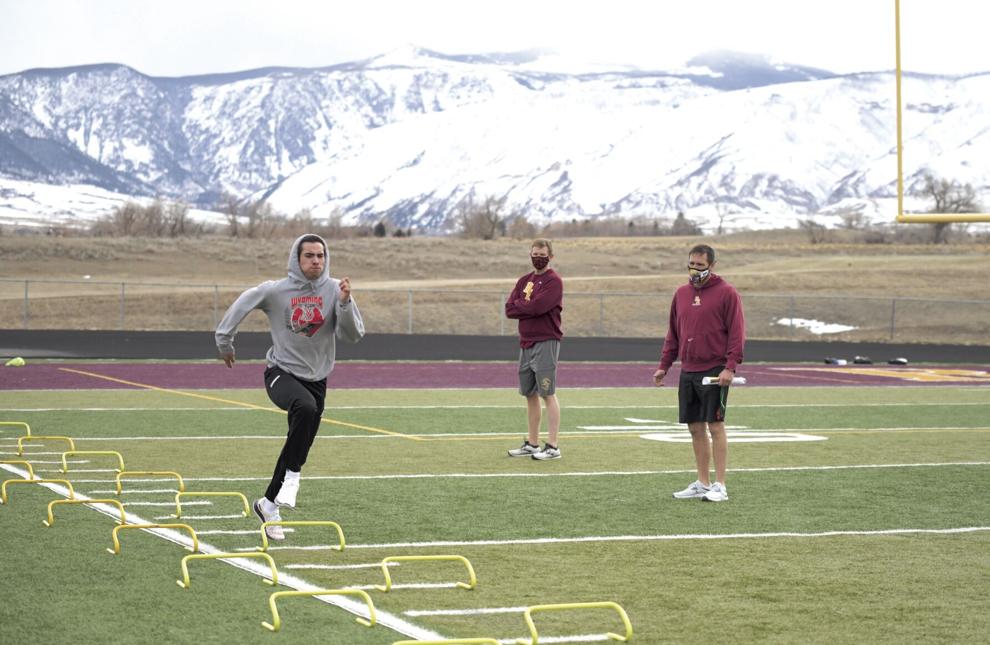 Big Horn determined to replicate Rams 2019 performance, improve Lady Rams 2019 finish 
The Rams and Lady Rams head to Gillette for a "scrimmage" Friday to allow underclassmen to acclimate to the structure of the outdoor competition before the program's first official meet of the season at Buffalo April 1. 
Big Horn's boys team roster a "good mix" of upper- and underclassmen speed, per McLaughlin. Many Rams who won the state championship team title in 2019 and placed individually return to the track this season — senior Carson Bates won the 100-meter and 200-meter dashes as a sophomore and ran with now fellow seniors Will Huckeba and Ayden Phillips in the first-place 1600-meter sprint medley relay, while senior Garrett Custis placed third in the triple jump as a sophomore. 
Custis said the boys team understands they have a good chance at replicating their state championship performance from 2019 and feels especially driven after losing the opportunity last season to repeat.
Additionally, the Rams carry momentum from the indoor track and field season when they qualified for the state meet with their 4x400-meter relay as the only 2A team to compete in any relay, and Huckeba finished fourth in the 400-meter dash against 2A, 3A and 4A athletes.
Though the Lady Rams are less experienced with outdoor competition, McLaughlin expects to be able to put together competitive relays and will coach the girls team to focus on their strengths as they hope to improve upon their 12th place finish in 2019. The Big Horn girls team didn't take any athletes to the indoor state meet but will use their competition experience and individual improvement to drive their training during the outdoor season. 
Junior Rachel Bishop, who ran indoor track and field for the Lady Rams, said the "upbeat" girls team brings confidence from the indoor to the outdoor season because they spent the past three months training for their events.
"It's going to be a great season," Bishop said. 
Bishop noted McLaughlin and his assistant coaches use speed training for all of the Big Horn athletes to allow them to see individual, personal improvement during practices and not just at meets, and McLaughlin anticipates specialization as the season progresses. 
The head coach said he's already heard positive talk, seen athletes set their sights on records they want to break and discuss relay combinations they view as competitive — determined not to take this outdoor track and field season for granted.  
"We've got kids who are excited who haven't ran track for two years," McLaughlin said. "They're excited to get going." 
Tongue River aims to 'peak at the right time'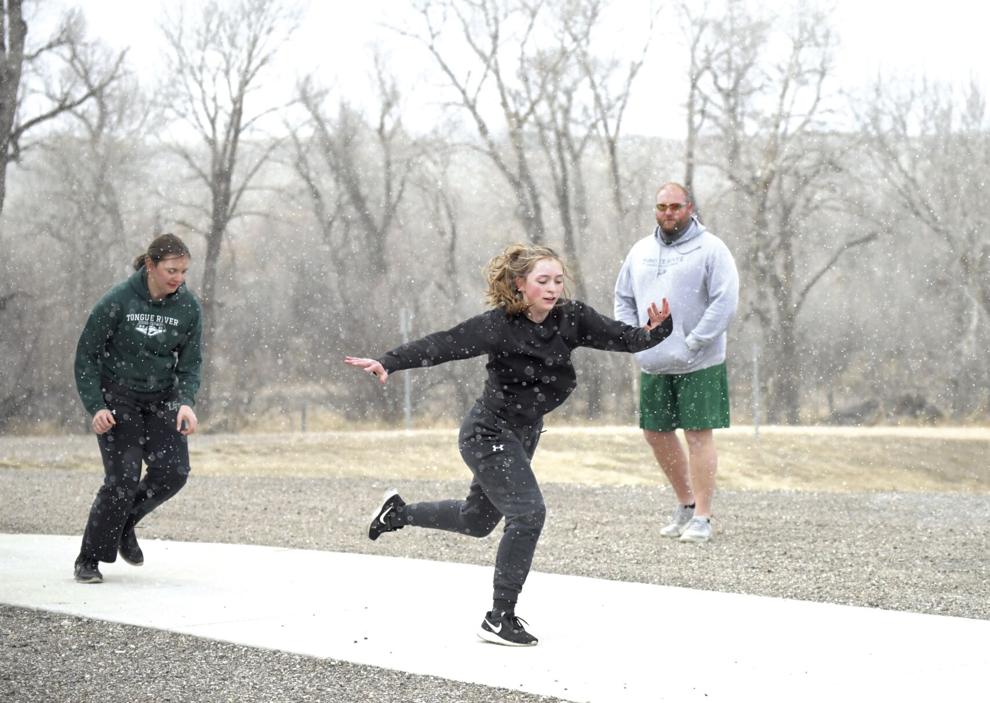 The Eagles and Lady Eagles approach their season with similar vigor to Big Horn, and head coach Steve Hanson highlights how many Tongue River athletes use the outdoor track and field season as supplementary to fall and winter sports, as well as an opportunity to compete for a state championship. 
Regardless if the Tongue River athletes view the outdoor track and field season as time to train for fall sports or compete for podium positions at the state meet, the Eagles and Lady Eagles warmed up alongside each other Tuesday and shared excitement for the sport's return after last year's canceled season.  
"I'm excited," senior Grace Sopko said. "I think everyone's a little nervous because we've had a gap year, and none of us have been to a track meet for a long time, but I think everyone's excited."
Sopko and junior Wyatt Ostler competed with Tongue River's cross-country teams, as the Eagles and Lady Eagles won the program its first state championships in the fall. Ostler said momentum from the cross-country season carries into the outdoor track and field season and described the boys team as "workhorses" regardless of event. 
The Eagles team rosters a mix of veteran experience like Ostler and talented underclassmen as the boys team hopes to improve its sixth-place finish of 16 teams at the state meet in 2019. Senior Jason Barron placed ninth in the 1600-meter run as a sophomore in 2019, while junior Jacob Knobloch finished fifth in the discus throw. 
Tongue River's girls team boasts depth and expects one or two Lady Eagles to place in nearly every event as they look to better their eighth-place finish in 2019. Junior Carleigh Reish won the long jump event as a freshman in 2019, placed second in the 100-meter dash and finished third in the 200-meter dash, while Sopko placed sixth as a sophomore in the 100-meter dash. 
Though Big Horn returned a similar amount of athletes, across the county, 4A Sheridan saw an increase in participation numbers from indoor to outdoor track season, and Hanson has seen the same with Tongue River's program — 43 Eagles and Lady Eagles will partake in the outdoor season, which is the largest group Hanson has coached in the past eight years, compared to 25 to 30 athletes typically.
"We have a great group of kids eager to be a part of this," Hanson said. "To compete and have some fun, and that's the goal ultimately — it's improvement, especially in this sport." 
The focus for the larger group remains the same as previous seasons as Hanson and his assistant coaches will prioritize "peaking at the right time." After a week of practice followed by spring break, Tongue River begins to solidify individual goals for the season and increase its intensity this week while shaking off any rustiness that lingers as a result of the canceled 2020 season.
The Eagles and Lady Eagles open their season at Greybull Saturday but take a long-term training approach to the three-month long season. 
"We do not need to run, throw or jump our best times or distances this Saturday," Hanson said. "We need to treat this Saturday as the first opportunity to get a time and a mark and feel that competition. We need to focus on being our best in May."