SHERIDAN — The brains behind the football Broncs' defensive operations often wears a blue gator and a baseball cap or a bucket hat if it's particularly sunny at practice. During games, he regularly identifies and shouts Sheridan's opponent's play to his defense almost immediately after the teams line up.
"That man always knows the play before the play happens," senior defensive back Reese Osborne said incredulously.
Senior linebacker Hunter Goodwin chimed in, "I hear him on the sidelines every week."
"He will call the play before the play happens," Osborne continued. "He studies up."
DJ Dearcorn, Sheridan High School's defensive coordinator, finds joy in what he calls "tripping up" an opponent by baiting their offense, then answering the team with sound defensive play. That joy manifested itself in a 41-7 win over Kelly Walsh last Friday and a No. 1 ranked team defense through five weeks.
"He's a blessing because I say, 'DJ's got it' and I don't have to worry about it," head coach Jeff Mowry said. "It's such a blessing to know the defense and that side of the ball is in good hands."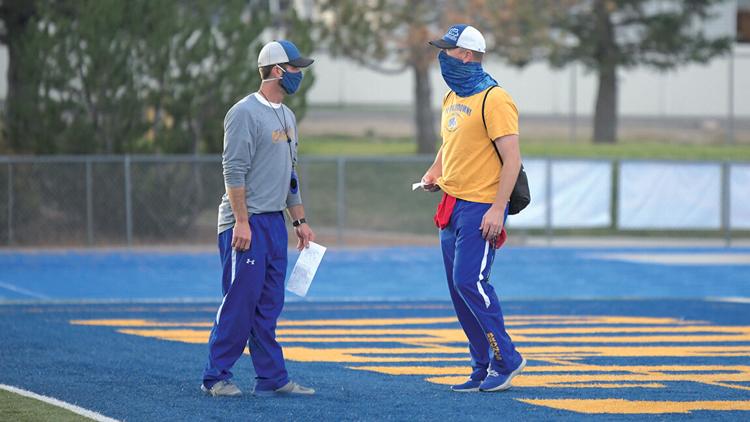 The entire defensive staff led by Dearcorn encourages the Broncs to play with physicality, intelligence and trust in each other. Week-to-week at practice, Dearcorn challenges his athletes to remember teams' tendencies — he posed schematic questions at the end of Sheridan's practice Tuesday — and Dearcorn reminds his athletes to tackle aggressively, while respecting the game and its rules.
"You get to fight, basically, for four to six seconds at a time," Dearcorn said. "There's certain things you can't do, but having that mentality of battling and playing with a chip on your shoulder is really advantageous for defenders."
Goodwin highlighted the team's ability to have fun and rally around each other. Osborne said Sheridan's defense excels in creating its own "hype," and veteran leaders help the Broncs stay energized, while Dearcorn emphasized the often silent and systematic leadership of the defensive line as key to Sheridan's weekly performances.
The 10-year coordinator veteran attributes this year's defensive success to an experienced defensive line, defensive back depth and Sheridan's ability to build depth at the linebacker position, where the Broncs lost three starters this year.
He said the COVID-19-related practice adjustments forced the Broncs to focus on individual fundamentals before adopting the year's scheme and team concepts. Dearcorn said some pieces are still falling into place defensively.
The patience and preparation paid off.
Through five weeks, as statistics were unavailable through Week Six not including Sheridan's 41-7 victory over Kelly Walsh last Friday, the Broncs lead 4A in rush defense, allowing an average of 109 yards per game. Sheridan led the category in 2019, as well, but the Broncs finished the season ranked eighth in pass defense and third in team defense.
This year, through five games, the team ranks second in pass defense, allowing an average of 38 fewer yards to quarterbacks — 138 in 2020 compared to 176.3 in 2019. And the 2020 Sheridan Broncs currently rank first in team defense, as opposed to their third-place finish last year.
Before Sheridan traveled to play the Kelly Walsh Trojans, Mowry had said Dearcorn's Week Six preparation in particular would be crucial, as the Trojans ran an option attack Sheridan hadn't seen before their Friday night matchup.
Though Dearcorn would have liked to have allowed fewer passing yards to Kelly Walsh, the coordinator acknowledged the team took care of the fullback dive, played physically and created turnovers, which the Broncs have focused on lately.
"I was impressed," Dearcorn said.
But Osborne and Hunter said the 41-7 victory was almost to be expected.
"When you go back and think about it, it's not very surprising," Osborne said. "Everyone was doing their job, executing on all cylinders and that's what we practiced, so that's what we got."
After the Broncs' game vs. the Trojans, the team allows an average of 15.9 points per game, slightly better than 16.5 points allowed per game on average in 2019.
And because Sheridan's three losses this season have come from one score or less — a 17-20 loss to Central Sept. 11, a 14-16 loss to East Sept. 25 and a 31-38 quadruple overtime loss in Natrona Oct. 2 — the margin for error narrows.
Mowry, Dearcorn and the Broncs know this.
The team addresses its opponent's nuances each week and will revisit an opposing team's particulars if they face each other in the postseason, but the Broncs focus on how they prepare week to week with an emphasis on their effort.
Dearcorn knows Sheridan's Campbell County competition will likely use their speed to put together a physical run game, but Goodwin said the defense nevertheless hopes to "sniff out" the option, do their jobs and try to get the Broncs' offense on the field as much as possible.
When the defense does take the field, however, they can count on Dearcorn to recognize the Camels' play and shout instructions.