BIG HORN — Kirk McLaughlin enjoys teaching health and wellness, physical education and weights classes for the same reason he loves coaching football at Big Horn High School. 
The ever-evolving nature of health prompts McLaughlin to find new, fun ways to teach his classes and the near constant publication of weight training-related research leads him to plan different exercises for his students day to day, week to week and year to year. 
Just as McLaughlin can't coach any one Rams football team the same way, he avoids repetition in the classroom and weight room and, though he knows there's multiple right ways to teach, he always seeks out the best way.
"I like learning," McLaughlin said. "I always like doing something new. If we do the same thing over and over again, the excitement for it and the product isn't as good anymore. … I'm always looking for something new. I'm always looking for a better way to do what we're doing." 
For everything that's changed and everything McLaughlin's learned over the past nine years teaching at Big Horn, the teacher's passion for student growth and love for the weight room hasn't subsided. The voracious hunger to see his students improve in the classroom and his athletes excel on the football field remains unchanged.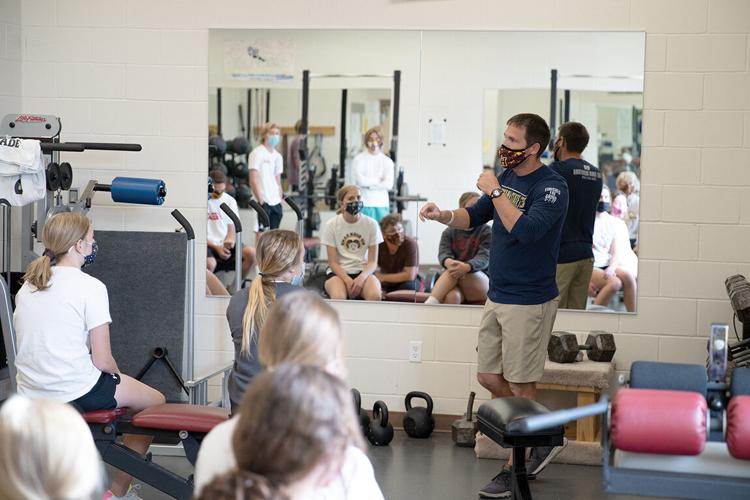 Mason Lube, one of Big Horn football's assistant coaches, played football under McLaughlin when McLaughlin served as the Rams' defensive coordinator and linebacker coach. McLaughlin taught Lube for two years, as well, and Lube can attest the now veteran leader hasn't flipped his "off switch."
"One thing that I think is interesting about Kirk, is nothing has really changed," Lube said. "He's always kind of been the same high-energy guy who's always cared about not only his boys, his position group, but also the program. There's not enough good things to say about him." 
McLaughlin was born and raised in Sundance, played wide receiver at Black Hills State University, met his wife and moved to Colorado to begin teaching and coaching. 
The McLaughlins reached a point when they wanted to move back to Wyoming and, when a position opened at Big Horn, McLaughlin described himself as "all in" on working for and coaching the Rams.
He started teaching PE, weights and online classes, taught life skills for a few years too and, after reorganization and staffing changes, shifted into his current role. All while involved with Big Horn Rams football.
Originally, McLaughlin didn't prefer any grade level and enjoyed teaching children of all ages, but since he's fallen into the high school realm, he loves watching his students grow in their competencies and maturity that only comes from freshman to senior year development. 
"Just to see that growth from being a freshman to being an 18-year-old senior," McLaughlin said, "That's fun to see. That's rewarding. As a football coach, track coach, health teacher, weights teacher, just seeing them when they hit that PR or have that moment when they light up because of something they did — that's the most rewarding." 
Besides achieving tangible goals, McLaughlin has come to appreciate how health involves more than just how the body works. On Wednesday, he animatedly described the exercises his students completed during first period as part of the class' communication unit.
McLaughlin seeks to build relationships with his students and athletes, which often leads to improved communication skills and leadership qualities. 
It's why he sees freshmen graduate from awkward conversations to seniors holding mature discussions about all aspects of one's health, and it's why witnessing former students — like Lube returning to coach at Big Horn — succeed however they choose brings him joy.
Seeing Connor McCafferty at a flag football game, having Seth Mullinax stop by the school or running into Kyler Ostler and talking about life post-graduation fulfills McLaughlin. 
"When you get into school and football mode, you run into [former students] a lot less," McLaughlin said. "But, when you do, you cherish those moments." 
McLaughlin's desire to see his students succeed doesn't always manifest itself in the moment of reflection he stopped to take when discussing how proud he is of recent graduates.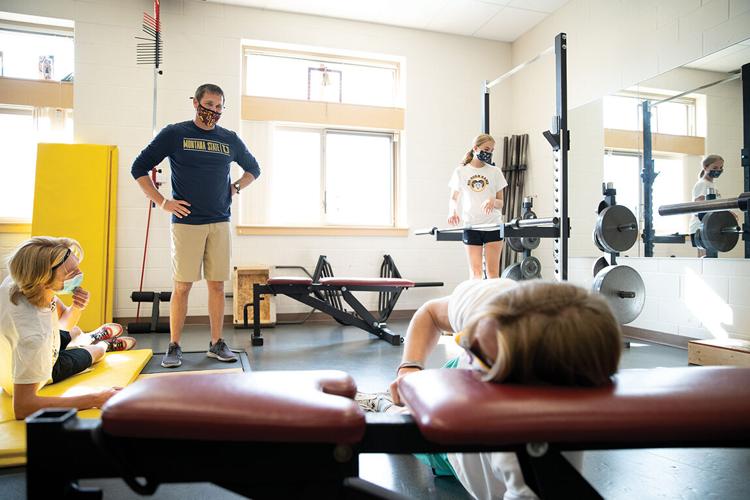 Big Horn High School principal Al Sparkman remembers meeting McLaughlin for the first time. Prior to becoming Big Horn's principal, Sparkman had attended a training in Riverton and stopped at Big Horn High School to see the campus and meet the superintendent.
When entering the gym, Sparkman saw McLaughlin walking purposefully along the back wall, headed somewhere. The superintendent called out an introduction, McLaughlin just waved and continued on his way — something Sparkman laughs about now. 
"Kirk is always on the move," Sparkman said. "I pride myself on being the older version of the Energizer bunny, but Kirk, he's new and improved."
The business-like seriousness with which McLaughlin approaches his work showed itself in his first interaction with Sparkman and has since resulted in McLaughlin being named Sheridan County School District 1's teacher of the year for the 2019-20 school year.
Sparkman has watched McLaughlin in the weight room, and knows the teacher loves coaching football, but highlights McLaughlin's apparent love for teaching. The principal said he doesn't know of a better "closer" than McLaughlin, who always ends his lessons strategically.
Once the school day ends, Lube witnesses McLaughlin turn his full attention to football practice. 
Though McLaughlin dedicates himself to whatever task at hand and balances teaching and coaching expertly, he admits big games will sometimes creep into the back of his mind during the school day. 
On the other hand, McLaughlin finds himself grateful for his hours spent in the classroom or weight room, as they can serve as a reprieve from the stress that may accompany a looming Friday night matchup.
But regardless of where McLaughlin directs his energy, one thing is clear: