SHERIDAN — Sheridan High School track and field captain Nicholas Hale began the Broncs and Lady Broncs practice at the Bruce Hoffman Golden Dome Monday by commending the team's support of each other at the Gillette Indoor Qualifying Meet No. 4 last Saturday. 
"Good job cheering each other on," Hale said. "And let's keep working hard this week."
The Wyoming High School Activities Association changed the format of the state's indoor track and field season so that athletes have three qualifying meets each to finish the regular season in the top eight of their events to compete at the state championship meet in Gillette Feb. 27 for boys and March 6 for girls. Typically, when COVID-19 doesn't affect the size of meets and structure of the indoor track and field season, the top four athletes from each team in each event have the opportunity to compete at the state meet in Gillette. 
After five weeks of practice and weekend competition, in spite of the qualification changes, Hale's words echoed through the Sheridan, Big Horn and Tongue River track teams' practices this week — hard work and supporting teammates takes priority, and qualification for the state competition will come as a byproduct as the teams approach the final stretch before their potential postseason.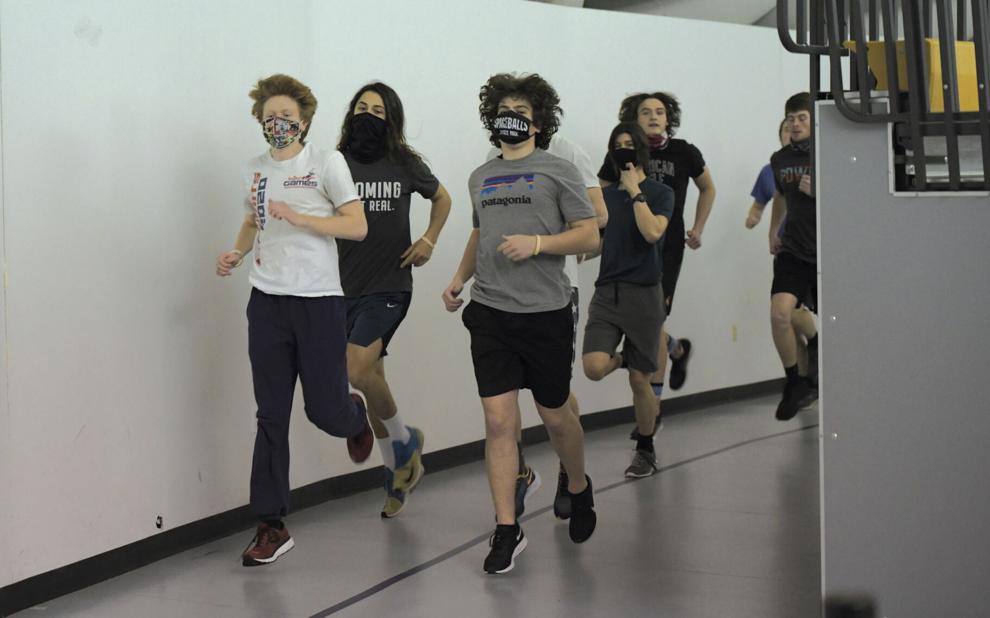 Sheridan competitors 'get after it and go to work' 
The ability to run in the Golden Dome to measure appropriate distances, pace workouts and practice around corners should benefit the Broncs and Lady Broncs as they prepare for the final of their three qualifying meets Feb. 20. Several Sheridan runners hold spots in the top eight as of Feb. 8, but room for improvement remains. 
"We're very excited about where we're at," Sheridan head coach Taylor Kelting said. "But we know we've got to keep going to try to get more and more kids in." 
Kelting and his team have competed at both qualifying meets and non-qualifying meets, and the head coach said Sheridan ends up competing against more athletes at the non-qualifying meets, which benefits the Broncs and Lady Broncs when it comes to the meets that count. 
The smaller qualifying meets, often limited to 200-300 competitors, leaves athletes feeling more encouraged after placing higher and earning points in their events for letter jacket letters. Junior Megan Hodges said an additional benefit of the smaller, no-spectator competition is the heightened support from teammates cheering each other on "like crazy" and making up for the lack of crowd noise, which Hale mentioned at the start of practice.
Hodges added she's experienced and seen a higher degree of competition during practice because of the top eight cutoff for the state meet and Feb. 20 looming on the calendar as the last opportunity to earn one of those spots. 
"You have one shot left, so you have to do it now," Hodges said. "You don't have time to mess around. You can even see it during practice — kids are taking practices more seriously because you don't have time to not take it seriously if you want to be great." 
The Broncs and Lady Broncs use the ability to check the top eight runners online weekly at WHSAA.org as fuel during practice, Kyle Meinecke pointed out. Instead of viewing the rankings as discouraging, knowing how close a competitor is to earning a coveted spot can push Sheridan athletes just as hard as previous years.
From joking with each other and laughing during warmups and dynamic stretches, after Hale's speech, the chatter died down and the Broncs and Lady Broncs focused on their practice for the day and acceleration through corners.
"We have a really gritty, get after it attitude," Meinecke said. "It's negative degrees outside, but you've still got to come inside. Not having fans or people at meets, you can't let it get to us. You have to be gritty, get after it and go to work."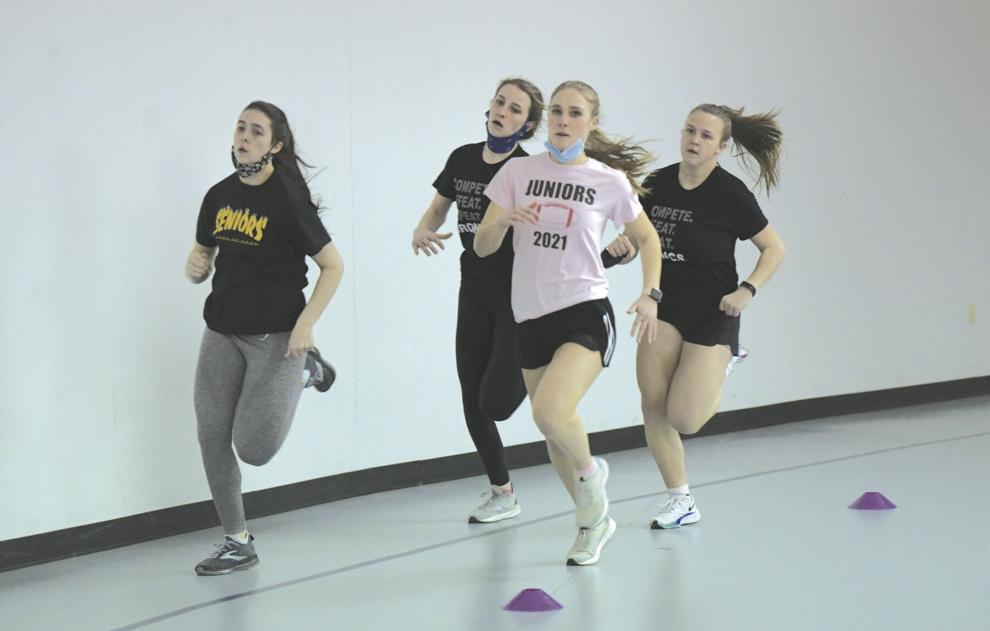 Tongue River emphasizes discipline, maintains positive attitude 
Tongue River head coach Scott Orchard sees the same commitment to the process from his athletes, and said his coaching style has changed slightly to make sure his athletes peak during their third qualifying meet this Saturday instead of the state meet, as has been the case previously.
Nevertheless, runners like junior Jane Pendergast, who has broken two Tongue River records and won a race at a qualifying meet, and teammate Maddy Hill, who ran the 400-meter dash for the first time recently, both consider their seasons successful already. The indoor competition prepares Tongue River for its outdoor season and serves as a mental challenge for the runners.
"Even though you didn't get as many meets as last year, and you might not be going to state, still have the mentality that you're going to do well," Hill said. "Don't let it intimidate you that you're not in the top eight. … The effort that you put in is what you're going to get out of it, so you might as well go for it." 
Orchard emphasizes accountability and controlling what he and the athletes can during this unprecedented season. The Eagles and Lady Eagles' positive attitudes and commitment to workouts encourages the head coach. 
"The discipline of training, the discipline of competing and the discipline of being part of a family, a team, makes a huge difference for them," Orchard said.
Big Horn focuses energy on physical, mental performance 
The Rams and Lady Rams' discipline shows in what head coach Andrew Marcure highlights as 18 personal records between Big Horn's first and second qualifying meets. 
"Keeping kids motivated and to work their tails off in practice has not been a challenge," Marcure said. "The group that we have is pretty motivated, and that's been pretty fun." 
Aside from also coaching the Big Horn athletes to their peak for the third qualifying meet Feb. 20, Marcure and assistant coach Kirk McLaughlin have focused on mental toughness and the all-around athlete. Marcure runs a Google Classroom dedicated to the Rams and Lady Rams running track and has held discussions on sleep, "why" statements and learning how to grow from moments of adversity. 
During this bye week before next Saturday's competition, Wednesday's practice began with a discussion focused on questions the athletes had asked their parents about mental toughness and adversity, while some athletes received treatment for mid-season soreness and/or injury.
Not only has Marcure seen the Big Horn athletes respond positively to the alternatively structured season, led by senior Will Huckeba, but he notes the indoor track and field community has rallied around putting on meets in Gillette. Without as many volunteers and workers on hand to help out, coaches of all different schools stepped up to run the meet. 
The collective effort within and between teams to put on a track season resonated with all three of the county's coaches and their athletes, who continue to express their gratitude for a season. 
"This is for the kids," Marcure said. "We're doing everything we can to make sure they get as much as they can out of the three meets. That's been pretty awesome."