BIG HORN — Lance Baker can tell you how many sprinkler heads sit underneath the Flying H Polo Club's fields. He knows how many gallons of water the club uses every minute, how many cubic yards of sand the fields need every year and how often his staff needs to mow the grass to maintain the pristine playing fields for the eight-week polo season.
Baker can recall which Wyoming winters were particularly harsh and how that affected the fields, but he struggles to find the exact reason he pursued a career in polo field and ranch management. 
"It was something that interested me, and I just kind of learned as I went," Baker said.
Baker works as the operations manager of the Flying H Ranch in Big Horn. Twenty-four years ago, he started mowing lawns at the ranch in the summer, then progressed to helping maintain fences and water lines and with the construction of houses. 
When Skey Johnston and the late Skeeter Johnston decided to start a polo club on the ranch in 2004, Baker helped build the fields.
Now Baker, 44, keeps track of 475 sprinkler heads which spray between 1,050 and 1,100 gallons of water per minute onto Flying H's three tournament fields, two practice fields and one stick and ball field. He oversees operations of six barns and manages an eight- to 10-person team.
Flying H Polo Club polo manager Will Johnston said the fields are the club's key to success — the fields keep riders safe and elevate the caliber of polo played.
"It's an art," Johnston said. "It's a real art. 
"You can make a schedule, and you can do A, B and C, but until you have someone who can walk onto the field and feel the grass and know what it needs or doesn't need, know what to give it or what to take away from it," Johnston trailed off, shaking his head."And [Lance has] been here since the beginning. He knows these fields so well."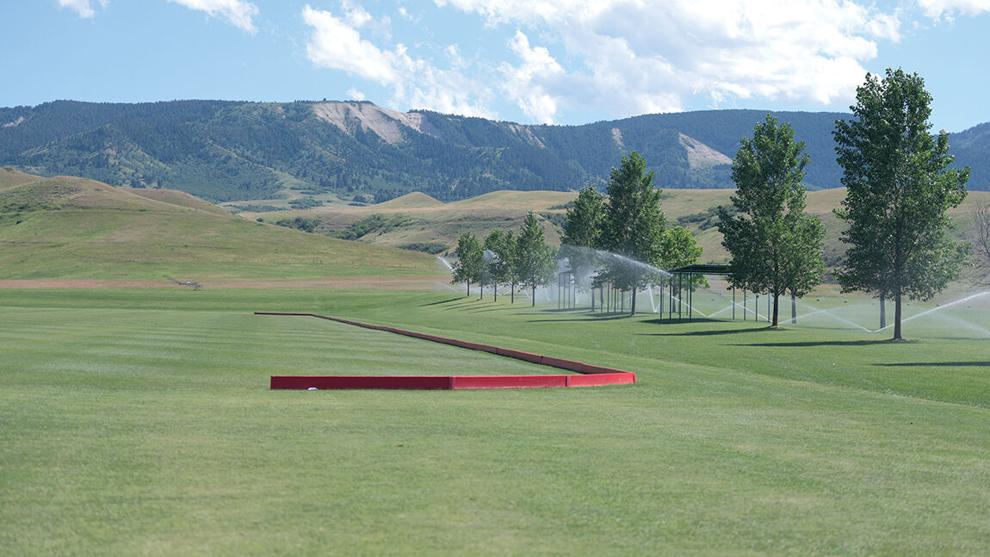 Baker grew up just north of Sheridan on a small family ranch his dad still manages. 
He studied agronomy and range management as part of the National FFA Organization in high school. Baker lightheartedly acknowledges he knew there usually isn't a lot of money in working on a ranch but attended Sheridan College and studied agricultural business anyway — earning his associate degree.
During college, Baker started mowing lawns at Flying H Ranch and learned the ins and outs of managing the property. After graduation, Flying H offered him a full-time job. When the previous construction and maintenance manager retired, Baker took over.
So when construction started on the polo fields in 2004, it was only natural Baker helped knock out the alfalfa fields, level and irrigate them and seed them with Kentucky bluegrass and tall fescue grass.
The fields, located about a mile down Bird Farm Road, hosted Flying H Polo Club's inaugural season in 2005 while the club built two barns just up the gravel path. A third was built the following year, a fourth in 2007, a fifth in 2012 and the sixth was completed in 2013.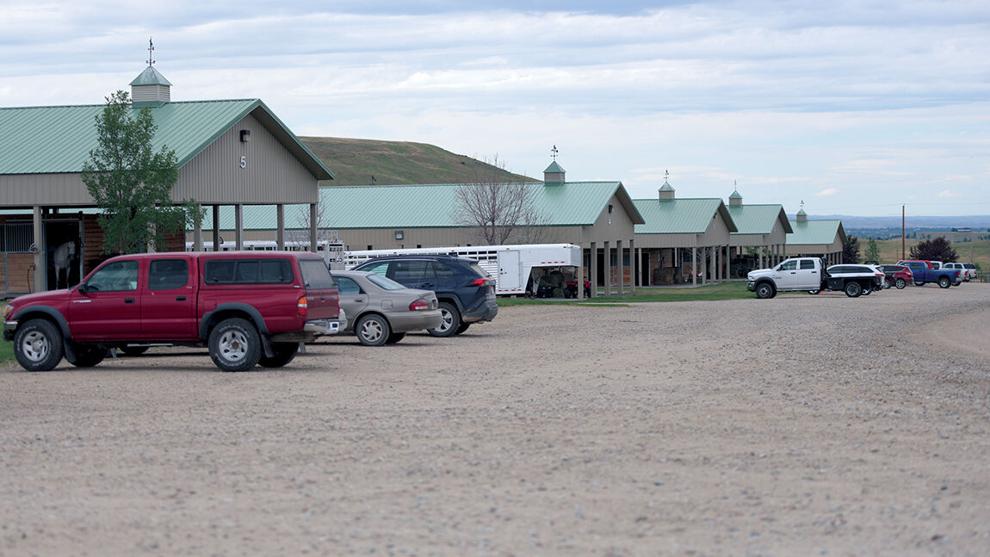 Meanwhile, Baker was establishing and implementing a cyclical week-to-week and month-to-month schedule to best manage the fields during the polo season and off season.
"It's tough for people to try to come in and manage it because I've learned it all step-by-step and figured it out as I went, slowly," Baker said.
From July to August, on Thursdays and Saturdays, visitors rumble down the gravel drive at the Flying H Polo Club heading to one of the three competitive fields. They pass the six green-roofed barns, a handful of small turnout areas on their right and, eventually, a green bungalow built in 2007.
Baker and his family call the bungalow home.
"They can work me 24/7 from there," Baker said, standing at the edge of the north Gallatin field, looking at his house. 
He smiled, revealing a small gap in his two front teeth, then laughed.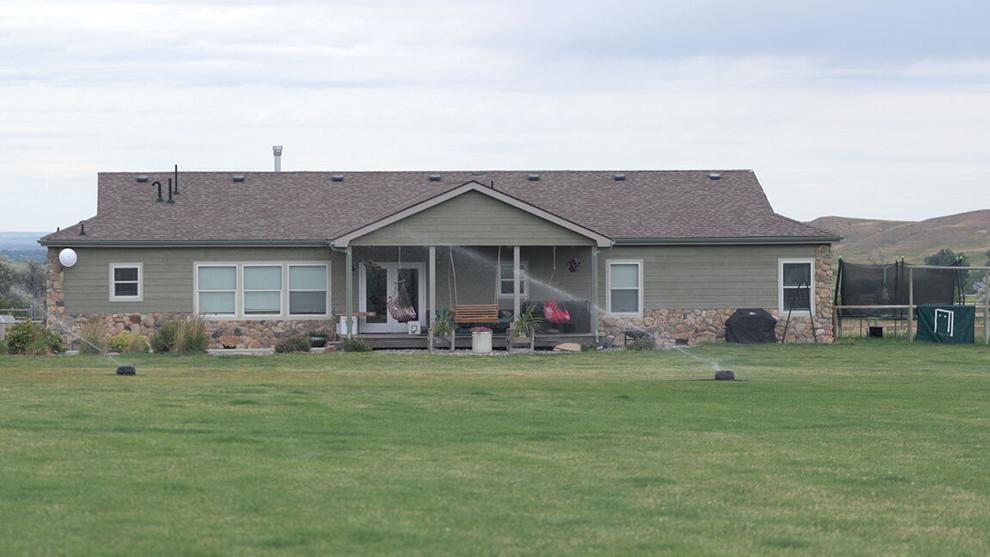 Baker doesn't work 24 hours, seven days a week, but during the polo season, he starts work between 5 and 5:30 a.m.
He tries to go to bed whenever it's dark outside, but he doesn't have any trick or favorite caffeinated beverage to wake him up in the morning. Just knowing exercise tracks need to be watered, fields mowed and sprinkler heads fixed pulls Baker out of bed. 
"You're out running around with muck boots on and you're getting soaked with water," Baker said. "So, that will wake you up."
On Mondays and Fridays — the days after tournament games — younger, summer staff will come and stomp the divots from the horses' hooves back into the ground. On Wednesdays, the same staff will walk around with buckets of a seed and sand mixture to fill any holes.
The thrum of lawn mowers and tick of sprinklers give Baker's day background noise. He explained his team is constantly mowing the fields to three-quarters of an inch, aerating the fields, adding sand to strengthen the grasses' root systems and, of course, watering. 
Twice a week, Baker's crew loads hay into the barns, receives a semi-truck-sized load of stall shavings from Billings and cleans the manure pits.
On Thursdays and Saturdays, the club's staff repaint the field lines, weed around the boards and trim the field a final time.
Between the 11 a.m., 1 p.m. and 3 p.m. matches, Baker buzzes around on a gator, adjusting the sprinkler heads to water the tournament fields not in use and dragging portable line sprinklers to water vacated parking areas.
He admits his vice is drinking too many Dr. Peppers throughout the day to keep him energized.
"It's pretty intense for me in the summer," Baker says. "I probably push it a little harder than I should."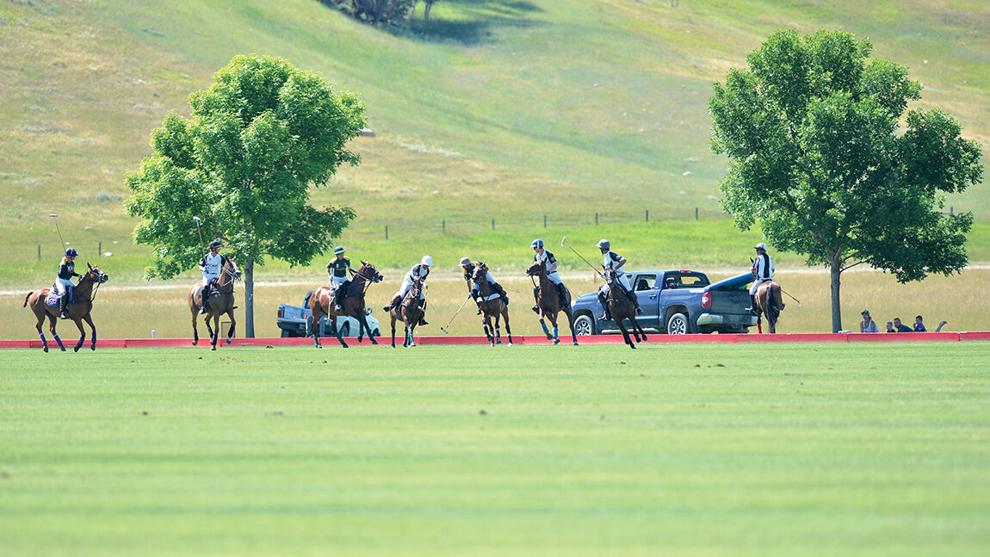 Long days, dedication pay off 
Horses and riders feel Baker's dedication to the fields. 
"Horses are like us," Johnston explained. "If I go and run around and I feel like I'm slipping, I'm going to be a little nervous how I run. If the horses feel that they can run and move freely and not slip and slide, it gives that animal unbelievable confidence to perform." 
A horse's confidence translates to its rider. 
Polo players know when they can gallop faster and run harder — they can feel how the mix of grasses cradles the polo ball and accelerates the pace of play. 
Baker's dedication to routine and precise watering also ensures a high degree of field safety.
"[The fields] are incredible," rider Paige Boone said. 
Boone and fellow polo player Fransisco Bilbao manage a polo club in Florida and appreciate how much work Baker puts into the pristine fields, especially in the northern Wyoming climate.
"I think it's one of the selling points of the club," Bilbao said, "to keep the fields like this because it makes the polo better."
Baker built the high caliber of polo play from the ground up. 
Sitting at the edge of the Fordyce Field in his gator, baseball cap and sport sunglasses on, hands in his lap, shoulders slumped slightly, facing the Bighorn mountains, Baker takes a moment to think about his future.
"I still have some hair, and it's not grey yet," he joked. 
He anticipates working as the operations manager of the Flying H Polo Club for the foreseeable future and working for the Johnston family for the rest of his life, citing the family's treatment and similar dedication to the land as intangible benefits. 
And he is quick to say the polo fields are his baby: "It would be tough if I had to walk away from this, just because I've invested so much time in it." 
When the trees lining the polo fields begin to lose their leaves and the air cools, Baker has more time to enjoy the ranch with his wife and four children. 
He admits the change of pace from the eight-week polo season sprint is an adjustment — he finds it hard to sit still. 
The fall and winter bring their own set of challenges to the Flying H Ranch, but before Baker knows it, the elk have run up and down the Bighorn Mountains and the polo season returns.
"I do [love my job]…It's kind of a love-hate relationship," he said and smiled, adding, "I really do take a lot of pride in it."