SHERIDAN — When the NA3HL Sheridan Hawks build multi-goal leads in the first half of hockey games, as was the case against the Butte Cobras Friday and Saturday and for much of the Hawks' seven games this season, players recall head coach Andy Scheib's mantra.
"We can't create bad habits," forward Justin Schwartzmiller said.
The Hawks traveled to Butte this weekend to visit the Cobras after 21-0 and 18-1 wins at home Oct. 9 and 10. After slower starts and early 1-1 stalemates during both games this weekend, Sheridan added an onslaught of goals to end each second period with 6-1 leads.
 Since the Hawks returned to play after taking 14 days off due to COVID-19 positive tests and related quarantines, they've won 9-0 against the Yellowstone Quake and most recently beat Butte 8-1 and 13-3 Friday and Saturday, respectively.
"We don't want to get bad habits when we're playing like that," forward and co-captain Gavin Miller said. "Andy [Scheib] likes to tell us to play like it's a 1-1 game. We come out flying and play hard the whole game." 
Though the Hawks' 2020-21 season is still young, they're now 6-1 compared to last year's 4-3 start through seven games, and Sheridan leads the league with 78 goals for and ranks No. 2 with eight goals against.
Players shared their higher expectations prior to the start of this season compared to last year's 35-10-1-1 finish, and Scheib added four new players in the past several weeks — forwards Lucas Gudz, Taylor Frerichs and Zach Brydges and defenseman Dakota Kott — to further add to Sheridan's skill level.
Brydges and Kott both joined the Hawks from the NA3HL's parent league, the North American Hockey League, while Gudz and Frerichs previously played for NA3HL teams. After just a full weekend playing for Scheib, the newcomers understand how to maintain a high caliber of play when ahead by several goals against opponents.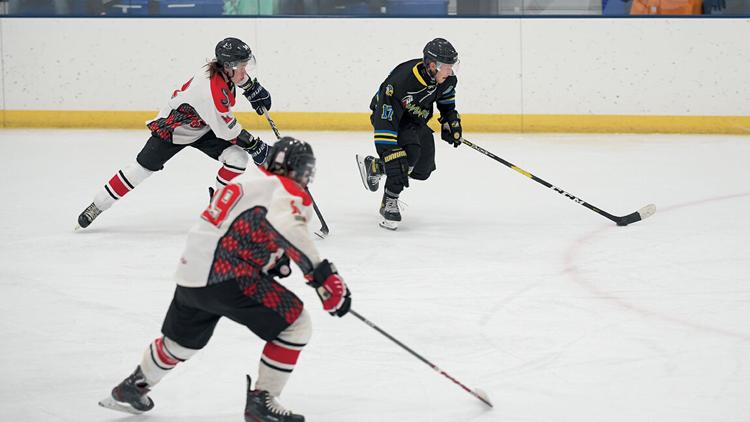 "If we're playing a worse team, don't do something you wouldn't do in a tighter game or against a good team with better competition," Brydges said. 
The Hawks describe bad habits as playing selfishly, not passing the puck and individual efforts. Scheib wants his players to limit turnovers and play simply at all times but especially with the lead and in the defensive zone.
Despite the win, the head coach expressed disappointment with the team's 8-1 performance Friday night because the Hawks diverted to bad habits.
"I think we were lackadaisical," Scheib said. "We didn't have any preparation — it was one of those games where you think you're going to win, and you go in and you don't put in the effort, and they give it to you."
Saturday night, the Hawks ended the first period up 4-1, couldn't settle into a rhythm during the second period because of special teams play and gave up a couple goals early in the third before rebounding in the final 10 minutes of play to add six goals.
Scheib reconfigured the forward lines between the second and third periods Saturday in an effort to create chemistry, as the head coach admitted the team continues to work through the intangibles with its newest additions. 
"Once we got our s--- together there," Scheib said, "we took it to them again." 
Besides helping the team to increased chemistry, more goals and greater margins of victory, the "avoiding bad habits" attitude aims to help the players who aspire to play in the Tier II NAHL or NCAA Division III hockey.
The mantra has driven Scheib throughout most of his personal life and during his coaching career, and he hopes instilling the attitude in his players will help them in the more competitive leagues on the ice and through life off the ice.
And so, when the Hawks take the ice Monday to begin another week of practice and preparation for their next series against the Bozeman Icedogs, Scheib expects tape-to-tape passes, 100% effort and an attention to detail.
The Icedogs will be the most competitive team Sheridan has played this season, as Bozeman holds a 6-4 record and defeated the Hawks 3-2 in their second game, while handing Sheridan its only loss of the season.
The teams Sheridan has played so far this season, besides Bozeman, combine for a mere three wins — all the more reason for the Hawks to improve on their 8-1 and 13-3 performances against Butte.
"The weekends are fun, and for competing, obviously," Scheib said, "but Monday through Thursday is for hard work, and that's where we're going to develop good habits. That's where we're ultimately going to find success."