SHERIDAN — Line combinations and defensive pairings have yet to be solidified for the NA3HL Sheridan Hawks. Head coach Andy Scheib has yet to introduce many of his systems to his 2020-21 team, and the Hawks are unsure who they'll see on the other side of the ice for the Bozeman Icedogs this weekend. 
Despite the unpredictability of the North American 3 Hockey League's first weekend of play, for Sheridan one thing is certain — Scheib expects his team to do one thing, if nothing else: 
"If we go in there and work hard and get beat, I can live with that," Scheib said. "But if we go in there and don't compete and don't work hard and end up beating ourselves, that's what I have issues with." 
Scheib and assistant coach Chad Bailey have run training camp for the past week and several days, welcoming an almost-even mix of veteran players and newcomers. The self-described "hell" of a week marked by altitude adjustments and intense conditioning led to players becoming increasingly more in-shape and comfortable with each other. 
"I think all the training and all the sweat we've put in has helped [team chemistry]," forward Luke Desmarais said. 
But, as with any other Tier III junior team subject to both player protections and trades, the Hawks are cognizant of their ever-changing roster. Players aging out of the NA3HL coupled with Scheib's off-season recruiting adds relative uncertainty to the team's exact expectations. 
Sheridan (35-10-1-1 in 2019-20) finished seven points behind the No. 1-ranked Bozeman (39-7-0-1) in the Frontier Division last season, and recorded a 1-5 regular season record against the Icedogs. But last year's performances carry little weight for the Hawks' coaches. 
"It's anyone's game," Scheib said of Friday's season-opener.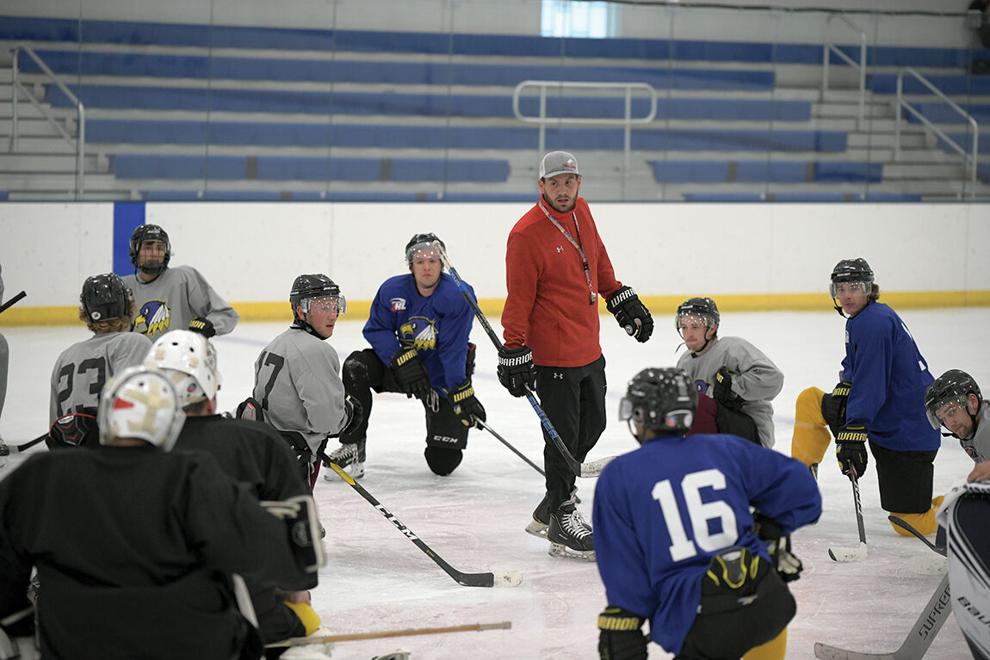 Newcomer Desmarais said the team learned each other's names after a few days of camp last week and now focuses on becoming better friends off the ice while working harder on it. Bailey admitted the Hawks will make mistakes but expects veteran leadership, especially, to help the junior hockey rookies correct those errors quickly.  
"I just hope we win both games and put some points up there," Desmarais said, "and playing the first-placed team from last year, we'll prove ourselves."
Most of Sheridan's blue line group will have to prove themselves this weekend, as McCaffrey Billings serves as the Hawks' only veteran defenseman. Bailey emphasized Wednesday the defensive pairings will come together after experimenting with different combinations and continuing to identify each player's strengths. 
The Hawks' strong forward line of returning players Jacob Cummings, Logan Syrup and Blake Billings will likely lead the team in goals, as Billings and Syrup collected 85 and 69 points in 2019-20, respectively. Cummings logged four goals and seven assists through eight games played for Sheridan last year. 
Goaltender James Downie claims the crease after finishing 23 games with the Hawks with a 16-5-1-1 record, 2.38 goals against average and .919 save percentage.
Scheib said his team's will to win this year exceeds last season's and he expects the Hawks to score a "ton" of goals, even if the coaching staff works on finding "the right pieces to the puzzle" this weekend.
The two-game series against Bozeman will show Scheib and Bailey their team's A-game as well as who finds their B-game to an effort to add value to the team. Compete-level and 110% effort should take the ice with the Hawks, regardless of the degree of uncertainty surrounding the games.  
"It's kind of like a scrimmage," Scheib said. "We still want to win, we still want to play good, work hard — do all the little things that we need to do to be successful — but at the end of the day, you can't get too upset if we lose."
The puck drops against the Icedogs at 7:30 p.m. Friday and Saturday.