SHERIDAN — Two days before the North American 3 Hockey League Sheridan Hawks host the Missoula Jr. Bruins in the first round of the league's Fraser Cup Playoffs Friday, Saturday and Sunday, if needed, assistant coach Chad Bailey skated at center ice as the Hawks lined the boards waiting to start another round of a 3-on-2 drill. Bailey reprimanded the players for not communicating when passing the puck and reminded the Hawks of the added significance this weekend's games bring.
"Do you want this?" Bailey said, asking the Sheridan team how badly it wanted to win the NA3HL championship.
Half-hearted "yeah" and "yes" responses filled the Whitney Rink in the M&M's Center.
"Do you want this?" Bailey asked again, louder and with more vigor.
A chorus of emphatic "yeah"s answered Bailey's call to action, and the volume and frequency of players calling for the puck increased when making tape-to-tape passes in resumption of one of the final drills of practice.
The Hawks' practice Wednesday mimicked their intense, high-energy practices throughout the season, and Sheridan's coaches haven't changed their approach after losing just one game during the regular season, though the heightened importance of the weekend's games are not lost on the players or the coaching staff.
"There's not many teams that have this opportunity," goaltender Cristian Wong-Ramos said. "Being one of the top four teams in the division, having the chance to extend the season has been a blessing."
As the No. 1 team in the Frontier Division and NA3HL, the Hawks (39-1) host the Frontier Division's No. 4-seeded Missoula Jr. Bruins (21-17-2) in a best-of-three playoff series beginning Friday. Sheridan swept the four-game regular season series, beating the Jr. Bruins 6-4, 4-2, 10-0 and 11-4 in February and March.
But the Hawks understand their regular season record means nothing to their playoff opponents.
"We spent all year training and working toward this goal," head coach Andy Scheib said. "But we can't change what got us here. We're still trying to be lighthearted, upbeat, up-tempo, enjoying what we're doing. But it adds more pressure knowing, if we don't win both games, the season is done."
Sheridan's past month featured back-to-back 3-2 victories in Gillette March 19 and 20 and 3-1 and 4-1 wins over the Helena Bighorns March 26 and 27 — closer contests for the Hawks who average 5.2 goals as their margin of victory. The tighter contests come as a result of teams playing their best hockey, Sheridan suspects, but players and coaches said the Hawks think they are playing their best as well.
"I think we're all dialed in right now," forward Gavin Miller said. "We're ready to kick some butt."
Depth drove Sheridan to its success, as several North American Hockey League players opted to play with the Hawks this season, but NA3HL veteran forwards, an improved, young defensive core and strong goaltending paved the way for Sheridan's one-loss season.
Linemates Jacob Cummings and Blake Billings lead the league in points with 112 and 79, respectively, and both forwards average more than two points per game. Former Yellowstone Quake forward Jack Harris also recorded a regular-season, top-10 point total with the league's ninth-best 62 points.
Additionally, forward Taylor Frerichs and defenseman Mason Wistrcill returned to the Hawks last week after Frerichs played 16 games with the Wausau Riverwolves and Wistrcill played high school hockey in Minnesota. Frerichs can't dress for Sheridan's playoff games because of trade and roster stipulations but serves as a "morale guy," and Wistrcill affords the Hawks another option on the blue line.
"I like where we're at as far as the number of players," Scheib said, "And the players we have."
Defenseman Simon Herz's 38 points (9 goals, 29 assists) ranks eighth among defenseman, and Dakota Kott's 30 points are good for 14th place. Goaltender James Downie said the improvement from the defensemen throughout the season has made his job easier.
The Hawks have rotated through Downie, Luke Fundator and Wong-Ramos, who Scheib acquired from the Texas RoadRunners with defenseman Brice French before the trade deadline in February. The head coach anticipates managing the goaltenders based on fatigue and performance.
"I'm excited to get out there and show what I can do, show what the team can do," Downie said.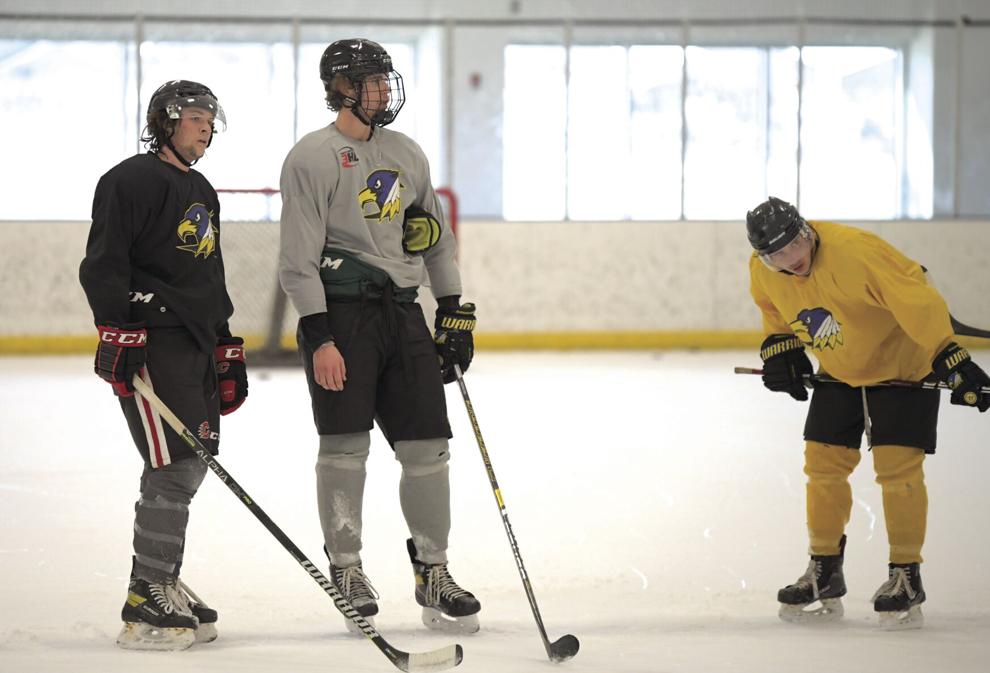 The coronavirus forced the cancellation of last year's NA3HL Fraser Cup playoffs and robbed the Hawks of a home playoff game after they traveled to Great Falls, Montana, and lost 3-1 to the Americans in the first game of the first-round series last season. Poised to return to Sheridan for game two, the league canceled the rest of the postseason, making it so this year's Hawks feel especially excited for a playoff series in front of their home fans.
"Last year left a little bit of a bad taste in our mouth, dropping the first [game]," forward Logan Syrup said. "And it ending before we could get revenge, so we're ready to go and ready to take it to [Missoula] early."
Excitement aside, Sheridan finished practice Wednesday with bag skates from blue line to blue line. Different Hawks players encouraged the team with battle cries and whoops of "let's go boys" as they worked toward their season-long goal of a Fraser Cup.
"I want to win," Scheib said. "But I want the guys to have fun too. It's a fun time of year."
The first step of the postseason began at 7:30 p.m. Friday — scores from Friday's contest against Missoula will be available on thesheridanpress.com — and continues at 7:30 p.m. Saturday. If needed, the third game of the series will begin at 4 p.m. Sunday.