SHERIDAN — Head football coach Jeff Mowry arrived at the Anderson family's house before the Sheridan Broncs' first game of the season Aug. 28 to hand-deliver junior Cooper Anderson's game jersey. 
"We love every single one of our players," Mowry said. "It was just something we thought would be a nice thing. … Typically, he'd be on the sideline for us in a jersey, so I took one over for him."
Cooper broke his arm during one of Sheridan's August football practices and had to miss the Broncs' first home game, so the Anderson family opened their front door to a pleasant surprise. The gesture, the compassion and the care for the community's children has slowly become less surprising to the California transplants.
"We were literally strangers," mother Emily Anderson said of Mowry's delivery. "That never would have happened [in California]."
The Andersons are one of several families that relocated to Sheridan for the school year, seeking in-person instruction for their children and an opportunity for their student-athletes to play football with a highly-regarded program.
Sheridan High School had four out-of-state football players transfer, one cross-country runner and one golfer, as well as a handful of in-state transfers. 
Emily Anderson remembers receiving information Cooper and twin-brother Kaden, both 16, would have to spend six hours in front of a computer screen as part of California schools' fall reopening plans due to COVID-19. 
Father Kory Anderson was born and raised in Sheridan, and the family regularly spends a month of their summer at Kory's childhood home. Emily and Kory's jobs as an educator and cross-country coach, respectively, moved online and gave the parents the possibility to work remotely.
They opted to sleep on the decision, but by 5 p.m. Sunday evening of that same weekend, the Andersons purchased plane tickets for Kory, Cooper and Kaden, and the trio boarded their flight to Sheridan at 3 a.m. Monday morning. Cooper made the Broncs' first football practice of the season Monday afternoon. 
Emily and daughter Brinley, 11, packed up the family's car and three dogs a couple weeks later. Nineteen hours and just less than 1,300 miles later, the Andersons completed their temporary relocation from Ventura, California, to Sheridan and Kory's mother's house. 
"We get to do something a whole lot of people don't get to do," Emily said. "All of the pieces aligned for us to be able to do this."
Mowry understands how football and other high school activities instill life lessons in young people besides just teaching the student-athletes how to win games. Regardless of where athletes come from, Mowry is excited to have them. 
"Any time we can get more football players on our team, I love it," Mowry said. "I don't care what age they are. I don't care what their ability is. We'll take them on."
The Wyoming High School Activities Association allows student-athletes to transfer schools, retain eligibility and immediately participate in any activity when his/her parent or legal guardian correspondingly changes their residence. 
Sheridan High School Activities Director Don Julian explained students must be in "good standing" disciplinarily with their former school and academically eligible to participate. Julian and Mowry emphasized public schools, like Sheridan, cannot and do not recruit student-athletes. 
Because any student who meets the WHSAA's and SHS' requirements may transfer into the school system and football program, Mowry said there's always a degree of uncertainty when new athletes must assimilate into the Broncs' football program. 
"With any new player to our team, you never know how they're going to fit into our culture, and culture is a large part of why the Broncs have been successful and will continue to be successful," Mowry said. "We are a team, and we believe in the team, ourselves, each other and our system."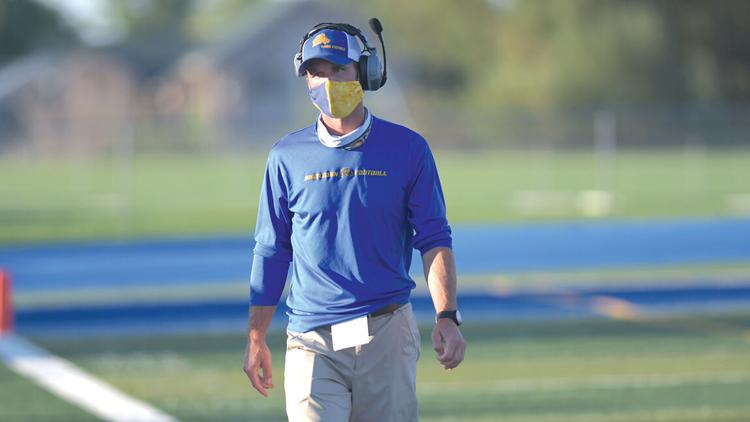 Rance Beck from Parachute, Colorado, couldn't imagine not playing football during his senior year of high school, especially because he hopes to play in college. His parents called Mowry during the summer, and Beck traveled to Sheridan to partake in a Broncs lifting session and decide if the program was a good fit. 
During football's senior retreat, Mowry spoke with his senior leaders about the possibility of welcoming the several out-of-state transfer students onto the team.
"It's a tribute to our players to welcome them in," Mowry said. "Coaches can welcome them in, but to be welcomed into the locker room is more important than anything." 
"It's a brotherhood," senior lineman Quinton Mangus said prior to the start of the Broncs season. "I've got to know a lot of the guys and some new kids from other states. … I trust all of them with my back, and I love every single one of them. We're just a big brotherhood." 
Heather Beck Hale, Beck's mother, attended Parachute's school board meeting during the summer to hear about the district's COVID-19 guidelines and left unsatisfied with the proposed quarantine protocols. 
Like Kory Anderson, Beck Hale's husband grew up in Sheridan. The Hales' extended family, their familiarity with the town from previous visits and Sheridan's small-town feel coupled with plenty of amenities convinced the five-person Hale clan to move to Sheridan for the school year and foreseeable future. 
Even for the Andersons who don't anticipate staying in Sheridan permanently, living closer to Kory's side of the family and experiencing a different political and religious climate made the journey worth it, among other things.
The adjustments the Andersons have undergone were made easier by the presence of friends from Ventura — the Tanner family looked for towns planning to play football in the fall and almost moved to Oregon before the state shut down its season, when father Craig Tanner heard Kory Anderson's plan to move to Sheridan.
Craig Tanner researched the Broncs program, moved to Sheridan with the family's three high school football players shortly before the Andersons and recently moved into a more comfortable home. Mother Gina Tanner travels between Sheridan and California to continue working as an attorney and take care of the family's 8-year-old daughters who are still enrolled in school in California. 
Senior Chili Tanner, junior Texas Tanner and freshman Rio Tanner all play on one of the Broncs football teams and regularly spend time with the Andersons, which helped the boys transition. 
"It was definitely weird not seeing the same faces [at practice], but it was nice because I feel like the coaches here are a lot better at coaching and overall good people," Texas Tanner said. "I really like them, and they're all very accepting." 
Cooper Anderson and Rance Beck both acknowledge Sheridan's positive culture is unlike their former programs — Cooper Anderson arrived home after the first day of practice describing in awe to Kory Anderson how the Broncs coaches don't yell or curse and often pray together with the team. 
Mowry can rattle off Cooper Anderson, Texas and Chili Tanner and Rance Beck's contributions to Sheridan's football team on the field, but the coach highlights the athletes' willingness to work, ability to integrate into the Broncs community and their adaptability off the field. 
As thankful as the football coaches are to add character athletes to its roster, when discussing their moves, the families express an even greater degree of thankfulness to Sheridan for welcoming them.
The Andersons' California license plates occasionally solicit a "stink eye" from passersby, and hurriedly moving away from friends, family and creature comforts wasn't easy. But the opportunity to volunteer at the animal shelter, eat Powder River pizza and treat themselves to Sugar Boot ice cream makes the adventure worth it. 
"I just want the Sheridan community to know how much we appreciate how welcoming they've been," Kory Anderson said. "There are not too many places like this." 
Last Wednesday evening, the Andersons' temporary house hummed with activity as their three dogs congregated in the living room with Emily and Brinley Anderson. Cooper Anderson spent time downstairs, studying for quizzes before Kory Anderson came home with Kaden Anderson after cross-country practice. 
Pictures of Kory Anderson's time on the Sheridan football team hang on one wall, and he reminisces about his time in Sheridan, saying the programs are even better now than when he played. 
Kory Anderson is grateful his family gets to experience the community that cares so deeply for each other, its youth and its Broncs — proud to watch Kaden Anderson run cross-country and see Cooper Anderson don a hand-delivered Sheridan football jersey.