SHERIDAN — When the Sanders brothers take the court for the Sheridan High School boys basketball team, Alex typically heads to the top of the key, and Sean moves from corner to corner behind the 3-point line. During any given game, Alex dishes the ball to try to find an open teammate while Sean works to become open. Both juniors shoot, run and walk similarly.
"I know he'll stay on the 3 and wait for it while I dribble it in," Alex said and laughed.
"It really works out," Sean said.
For being nearly indiscernible off the court, the identical Sanders twins play different roles on the Broncs team and have complementary personalities — Alex, the more outgoing dribbler and passer who wears No. 2 for Sheridan, and Sean, the quieter of the two who pulls up for corner 3-pointers and dons the No. 40 jersey. Alex stands an inch taller than Sean and was born a minute earlier, but both add to the Broncs fun-loving, hard-working team.
"They're both awesome kids," Sheridan's head coach Jeff Martini said. "They're both fun to have — they compete. They're not gifted with a ton of size, but they have a ton of heart. That's exactly what we want in our players. They do everything we ask and go out there and give it everything they have."
Alex and Sean began playing basketball in second grade at the YMCA because their older brother played and their father coached. Heated driveway basketball games punctuated their childhood, and the siblings disagree over who won more pickup games.
While not on the court during the winter, the twins play golf together in the fall and spring and, though closer to different members of the Broncs basketball team, spend time in the same friend group at school.
Alex prefers high school math classes, while Sean likes science more. In elementary school, they tried to trick their teacher by sitting in different seats during roll call, once thought about swapping jerseys when Sean fouled out of a youth basketball game, and teammates said they used to struggle to tell the two apart.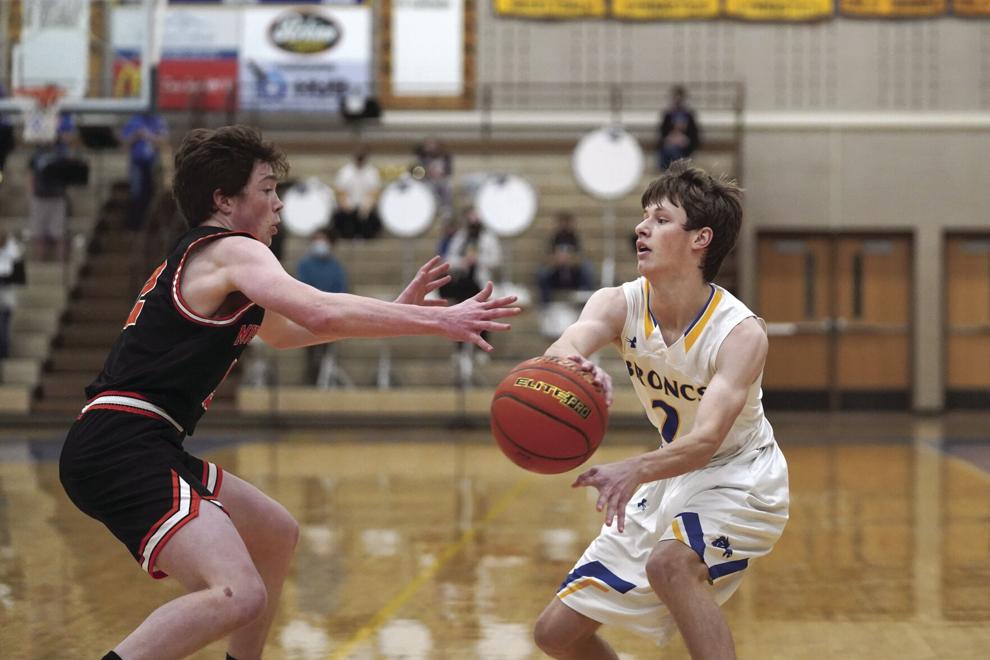 Now, 10 years of basketball and friendship later, the Sanders' teammates know which twin is which and laugh when talking about both Alex and Sean's tendencies to reference and quote Will Ferrell movies.
"They're both fun to play with," junior Reed Rabon said. "They just have two different styles of play, but we've played with them ever since we were young, so —"
"Lots of chemistry," junior Cole Leach added.
Besides adding their upbeat personalities to Sheridan's roster and the Broncs team that prides itself on its camaraderie off the court, translating to competition, the Sanders twins are a crucial statistical part to the team's 11-1 record (4-0 conference). Often, Martini taps the two for their speed during one of Sheridan's signature substitutions when four bench players replace four starters, though both have started a game or two this season.
Through Jan. 31, not including the Broncs' most recent win over Cheyenne Central last Friday, both Sanders boast at least 50 points this season. Sean leads the Broncs with 18 steals and has 64 points and the team's second-best 3-point shooting percentage of 37%, while Alex records 50 points and a team-best field goal shooting percentage of 65%.
Twin telepathy proves to be less of an asset than one might think, as the Sanders attribute their success on the court together as a product of their different styles of play.
So, though their basketball careers began in the same way in their driveway, the identical Sanders twins complement each other more than they mimic each other. Both compete fiercely, holding each other accountable for the other's mistakes, and will cheer on teammates or laugh on the bench, and both name different reasons for loving the sport of basketball.
"Probably just hanging out with my friends all the time," Alex said. "It's just fun."
"I like it because it's a team sport," Sean said, "rather than golf which is more solo. It's different, but I like it."