SHERIDAN — Sheridan High School head cheerleading coach Stephanie Vela traveled to the Broncs football game in Casper last Friday to watch Sheridan play Natrona County High School in a quadruple-overtime, back-and-forth battle.
Vela remembered last year's 4A State Championship game, and how the faithful fans and cheerleaders moved down the field alongside the team — cheering them on to a touchdown and, ultimately, a state championship title. In Casper, she missed that energy and suspected the team did too.
"They just need that positive oomph," Vela said. "The, 'C'mon guys, we know you can do this.' They needed that encouragement. I think [cheerleading] enhances the game day experience."
The Broncs cheerleaders and their unwavering energy when they lead the student section and fellow home fans in cheers at Homer Scott Field proves a staple of football season. The squad adapted their pregame rituals due to COVID-19 healthy and safety protocols, but their enthusiasm originates from an offseason of hard work and dedication to their sport.
"A lot of people see us show up in our uniforms and are like, 'Oh, that's a cheerleader,'" junior Mariah Winterowd said. "But they don't realize everything that actually goes into it."
As with any other fall sport, two-hour long practices Monday through Thursday define the season. The team spends its Mondays and Tuesdays at Sheridan High School — often in the school's courtyard in an effort to increase safety — reviewing dance routines and cheers.
Though the first two days of the week may include stunting, the Broncs spend their Wednesday afternoons taking a tumbling lesson at a local dance academy. Thursday serves as the team's "clean-up" day, when the group focuses on nailing routines ahead of Friday's football games.
Vela typically holds tryouts for the team in April and May prior to the fall season, then the group spends their summer working out, traveling to camps and clinics and completing stunting workshops together before their season officially begins in August.
This year, Vela was unable to hold tryouts and instead invited back all returning athletes and added several cheerleaders as the season progressed. The Broncs used a secure app to communicate, share videos of cheers to practice at home and respond to a team member's weekly "Thankful Thursday" posts.
Besides making logistical adjustments, Vela has altered her mindset and changed her perspective while encouraging her athletes to do the same.
"Our big focus this year too, is to emphasize, 'Cheerleading is what we do. It's not who we are' in case it does get taken away from us," Vela said.
The 14 Lady Bronc and three Bronc cheerleaders buzz around the courtyard during the team's practice Tuesday. One cheerleader asks if the team's speaker, fondly referred to as Monica, is on before the group lines up and practices their recently choreographed "Sweet Caroline" cheer.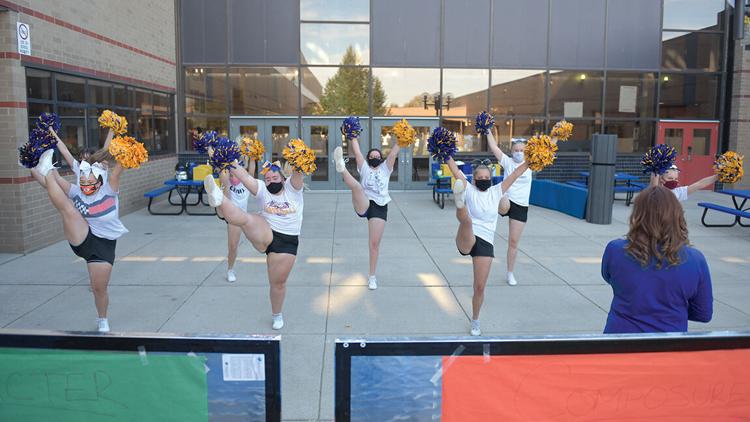 A variety of colorful masks coordinate with the Lady Broncs' hair bows and hide the smiles that reach the athletes' eyes when Vela cracks a joke.
"We're going to expect nothing and appreciate everything," Vela said about her team's mentality this season. "Every week, I'm just like, 'We've made it another week. We've made it another week.'"
Sheridan hopes to make it to football's state championship in November, as they usually compete the day of the championship game at a "Game Day" competition started by the University of Wyoming and Laramie High School's cheer coach.
The competition involves a one-minute cheer set to Sheridan's fight song, one minute of a band dance and one minute of situational cheer in which the judges give the team a prompt and the cheerleaders have to know whether it's offense- or defense-related, do the appropriate cheer and incorporate signs and stunting, flags, megaphones and a mascot.
Prior to basketball's culminating tournament in March, the Broncs will hopefully participate in Wyoming's state competition. The team took home fourth place this year right before activities and athletics were canceled because of the coronavirus.
The team's adaptations and reminder of the fragility of the season can't dampen the Broncs' spirits and, in some ways, brought the team closer during the offseason. Senior Julia Smart said she looks forward to the team's spirit and camaraderie, especially during an unpredictable year with the normal pressures of being a senior, like taking the ACT Tuesday.
"It's a big family, especially going through COVID and stuff, we've all gotten really close," Smart said. "We haven't had a lot of time to bond, but at practices, it's always a lot of fun."
Every cheerleader has the opportunity to create their own cheer and present it to the team. Vela said athletes will watch videos on YouTube and TikTok to find inspiration and, if a cheer can be adapted to the team's skill it gets named after whoever created it.
The autonomy and ownership of the team's work coupled with the individuals' gratefulness for a season motivates the cheerleaders more. Just as football players take the field with the understanding it could be their last game, Vela's athletes line the field with an understanding of their unchanged impact and importance.
"They can't tell me it doesn't impact them," Vela said. "I know it does [subconsciously]. It just makes them feel like everybody's behind them. I think it does impact them."