BIG HORN — Eight horse and rider duos pivot to the right side of Skeeter Field at Flying H Polo Club, prepared to chase the polo ball toward the goal or attempt to disrupt the play in a defensive effort.
Carlos Galindo posts his horse's canter, gaining speed on the right side of the field. Steve Dalton trails the developing action, ensuring he stays behind all eight players and Galindo.
Under the mid-morning sun, spectators would have to squint to notice Galindo and Dalton are wearing the striped polo jerseys of professional polo umpires and not the purple or white jerseys the competing players have donned for the match.
But the sentiment is the same.
"We love riding," Dalton said. "We love the sport. We love horses."
And Galindo and Dalton love umpiring together at Flying H.
As part of the United States Polo Association Umpires, LLC, which manages the USPA Professional Umpire Program and trains professional umpires, Galindo and Dalton became certified umpires and were matched together for the summer season in Sheridan.
"It's like playing polo," Galindo said. "You have to have a guy you umpire with that you click [with]. I think Steve and I really click well umpiring."
Dalton added, "We see the game pretty much the same way."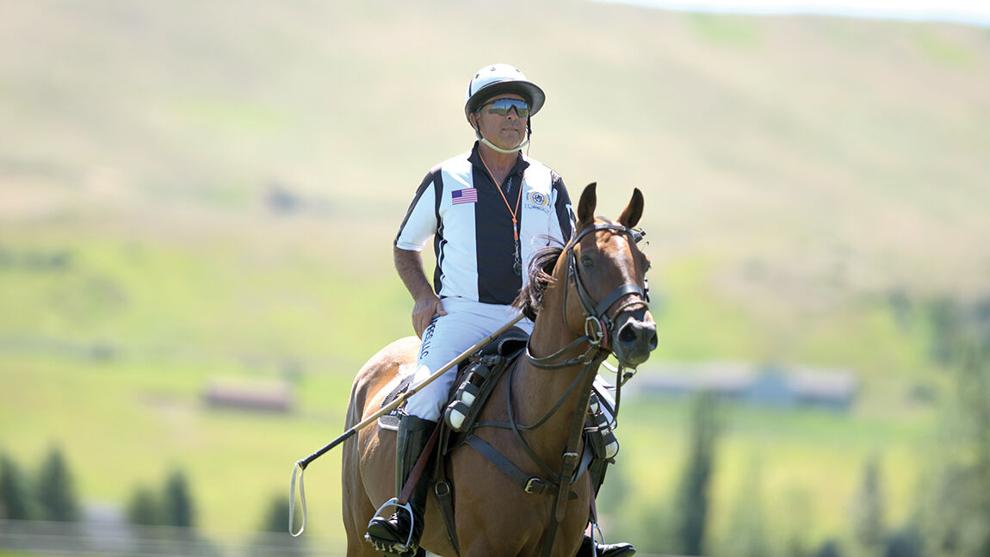 Though Dalton grew up playing polo in Calgary, Alberta, Canada, and Galindo was born in Mexico and grew up playing in Texas, the two crossed paths when a friend recommended Dalton work for Galindo in California and Oregon some 40 years ago.
Galindo and Dalton both traveled the country and the world on their ways to becoming five-goal and six-goal players, respectively — an impressive duo, as polo players are handicapped on a scale of -1 to 10 "goals" based on their ability.
Saturday morning, when the play turns back to the left, Galindo and Dalton rotate their positions — Dalton moves to the left side and Galindo falls behind, as is customary for professional umpires. The two riders blend into the competitive landscape effortlessly and said their competitive past helps their umpiring efforts.
"Being a professional umpire, before because you were a professional player, [the players] give you a little more respect," Galindo said. "They look up to you instead of trying to bring you down."
Galindo, 58, still plays professionally while also working at his family's farm in California, only umpiring part-time in the summer. Dalton, 54, transitioned to umpiring full-time after retiring from professional play and after a brief stint working on a ranch in Sheridan.
"There's a time and place for everything," Dalton said. "I love the sport, and I know the sport, so it's an easy transition."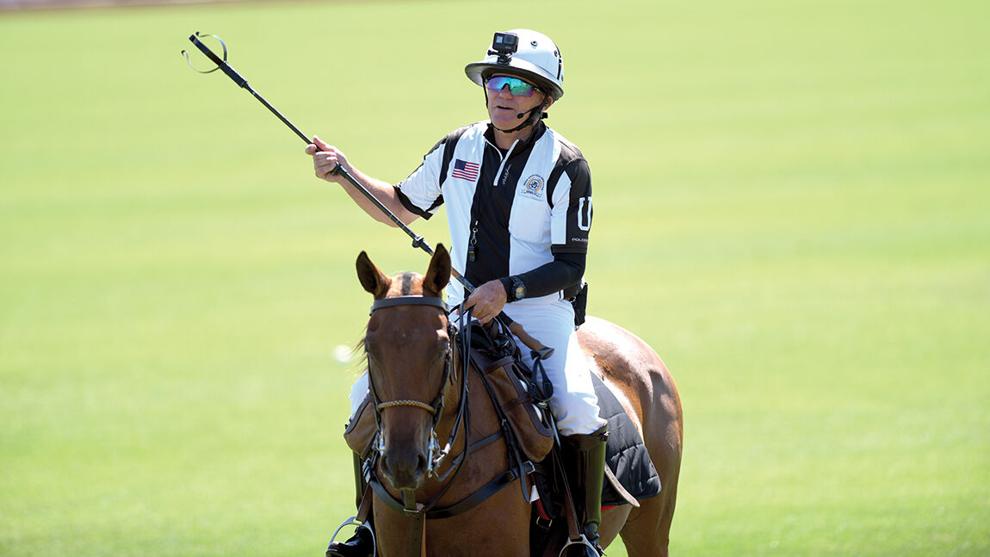 Galindo and Dalton don't shout observations to each other on the field like the players, as they use headsets and radios to communicate about calls. Ball bags are attached to their saddles, Dalton's helmet is outfitted with a GoPro and both carry a "pick up stick" in their right hand instead of a competitive mallet.
A trained eye would notice the differences in Galindo and Dalton's horses, both with long manes and unwrapped tails — signs of youth. Galindo, who brought 17 horses from his farm in California to Flying H, said umpiring on young horses gives them experience before they compete in matches.
Galindo and Dalton's pregame routines and pregame snacks are largely the same — water, Gatorade, chips and pretzel snacks sit in a cooler under their tent — but the two will umpire all three of Flying H's matches on Thursdays and Saturdays, spending 18 chukkers in the saddle each day.
"I've given [umpires] more respect now," Galindo said. "It's a hard job."
Some days and games are more intense than others. Often, during the Flying H season, those are the Saturday 3 p.m. tournament final matches.
Dalton said it's the umpires' jobs to adjust to the pace of play and level of intensity of the players. Every match has its own personality and, as the summer season ticks on, Galindo and Dalton learn the players' personalities and tendencies.
"It's like in any sport," Dalton said, "All the better players get away with better things."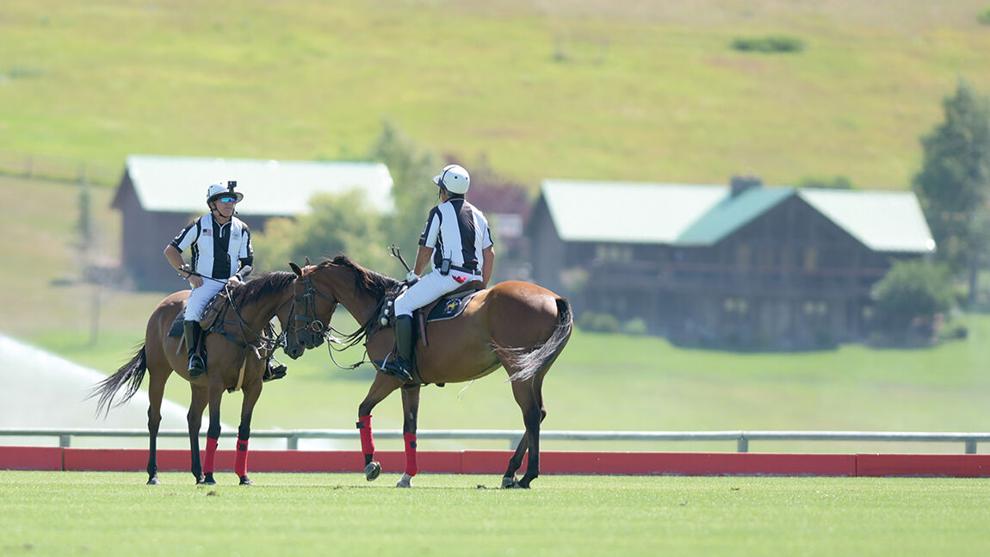 Both emphasize their priority is to keep horse and rider safe and to call a fair game. If there's ever a disagreement between the two, a third umpire on the sideline is asked for their opinion and can serve as the swing vote or declare the call a "null and void disagreement," though Galindo and Dalton say that rarely happens.
The hardest part of their job is staying on top of the year-to-year rule changes. Galindo, who sometimes has to umpire matches featuring his brother and son, said dinner-table discussions can be difficult, though all in good fun.
Between chukkers, smiles flash on Galindo and Dalton's faces beneath their umpire helmets. Sometimes they'll talk about the game, but often use the pause as a "brain break" — joking back and forth on their radio.
"You have to," Dalton said.
Galindo added, "You have to have humor. We crack up."
And when the horn sounds to end the brief break, players line up at the center line and face Dalton. He tries to see the open alley and throws the polo ball into the middle, between the horses' hooves as fairly as possible.
The eight horse and rider duos pivot to the left.
Galindo and Dalton blend into the game and fall into place.