SHERIDAN — One whistle: Skate harder. Two whistles: Groan and reverse, but don't slow down. One whistle again: Keep skating, but decelerate and take a breather. 
Andy Scheib whistled a rhythm: One whistle. Two whistles. One whistle. One whistle. Two whistles. One whistle. The NA3HL Sheridan Hawks' head coach skated near Whitney Rink's faceoff circle as his 2020-21 roster circled around him as part of the conditioning drill. 
The exercise started the second hour of the fourth day of the North American 3 Hockey League team's fall training camp Thursday. Returning players and newly recruited Hawks returned to the rink Monday to officially begin hockey season and Scheib's conditioning regimen. 
"Hell," defenseman Nick Tigges said deadpan when describing camp. "It's hard work, a lot of hard work." 
But the Hawks' 12 veterans and 10 newcomers expect the hard work will pay off. Though the group has only been together a week, the team identifies its strength in its plan to out-work and out-skate its opponents — the returning players have made clear the Sheridan Hawks will be tough to beat.
"A lot of these returning guys have the taste of unfinished business from last year," Scheib said. "They're still upset they didn't get to finish the season, and we did a pretty good job recruiting, and the new guys that we have in here are going to do well for us. We see the potential already. [The veterans] are already holding them to a higher standard than I normally do."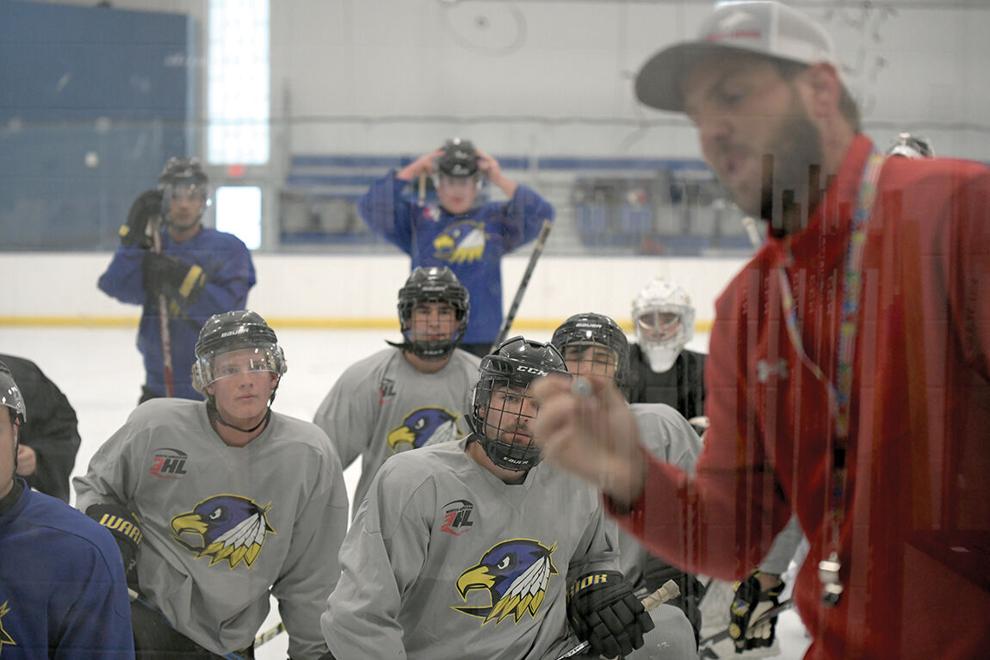 Sheridan's season begins on the road against the Bozeman Icedogs at 7:30 p.m. Oct. 2, as the Hawks attempt to avenge their 2019-20 season that was abruptly canceled in March due to the coronavirus. 
Because of COVID-19 and rink closures across the country, many players haven't skated seriously in six months and Scheib's training camp aims to get the Hawks back in shape and competitive before creating line combinations and introducing his system next week. 
Nevertheless, it's apparent to Scheib Sheridan is poised for a better season than last year's 35-10-1-1 finish. The shouts of goal-scoring celebration during end-to-end skating and shooting drills that marked the first hour of the Hawks' camp Thursday, as well as the stick taps of encouragement while three players battled in front of the net during the second hour, showed Scheib the players' attitudes.  
"It's tough for me to compare, but I'm happier now than I was last year, especially with the new guys I have coming in," Scheib said. "Culture-wise, their compete level and their intensity and their will to get better and will to win is head and shoulders above where we were last year." 
Sheridan returns the majority of its forward core from 2019-20, with top-five goal scorers Blake Billings, Justin Schwartzmiller and Logan Syrup checking back into the lineup. Stepan Ruta and Steven Delikat, who finished last season ranked eighth and 10th in points, respectively, also returned to the M&M's Center for camp Monday. 
Jacob Cummings only skated with the Hawks for eight games last season but racked up four goals and seven assists for 11 points. Cummings rejoined his teammates Thursday and said he can already tell the group is going to be better than the team expected. 
"I think we're going to score a s--- ton of goals," Scheib said.
Goaltenders James Downie and Luke Fundator boast a year of experience in the crease, though McCaffrey Billings serves as the only veteran blue-liner for Scheib.
But Scheib anticipates the new defensemen like Tigges and Zach Carson will step up after taking the next week to adapt to the altitude, learn the Hawks' system and get comfortable in Sheridan. Simon Herz is slated to play as an offensive defenseman, as the Hawks already pride themselves on their speed along with their work ethic.
"We've got a positive attitude and new faces who are ready to play," forward Gavin Miller said. "I think everybody's really happy to be here and just excited." 
Off the ice, having spent last year in Sheridan, Scheib and the veterans feel better prepared to help the newcomers integrate into the community. The experience will likely show on the ice. 
For the next five days, the older players will hit harder and make the younger players "uncomfortably comfortable," according to Tigges, in order to set the tone for the upcoming season — exhausting skates during camp will hopefully translate to winning performances soon.
"For the first week, I think we're god-awful, but that happens every year," Scheib said. "From what I've seen so far, I think we're in a better spot this year than we were last year."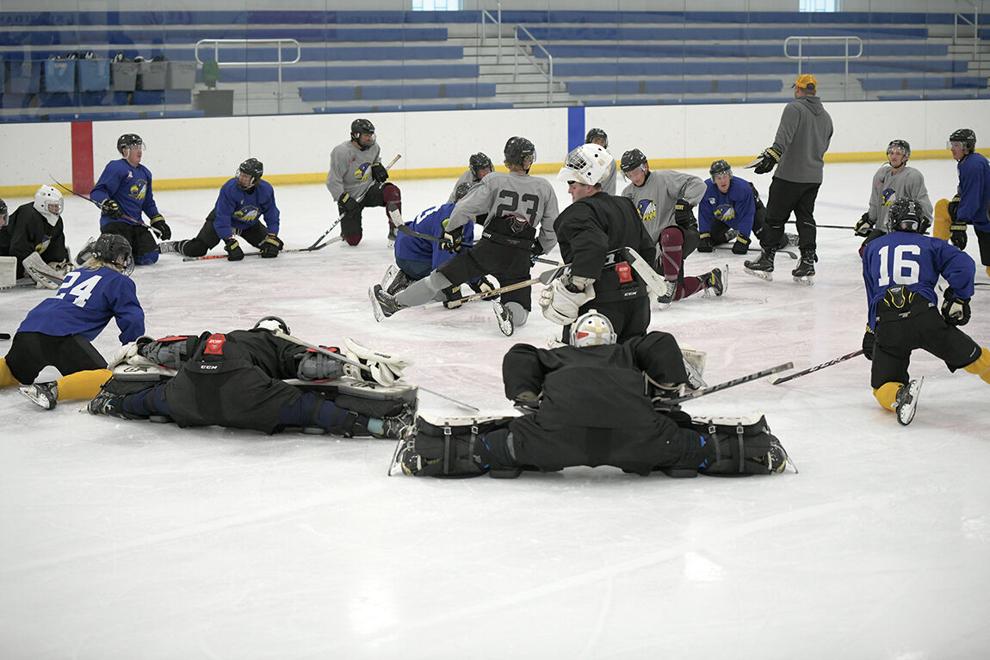 2020-21 season attendance update: Whitney Rink at the M&M's Center will only allow 305 fans to attend each of the NA3HL Sheridan Hawks games this season. 
Season ticket holders and booster club members with guaranteed tickets will need to be in line when gates open an hour before puck drop, and the remainder of available seats will be allotted on a first-come, first-served basis the night of the game. 
A limited number of season tickets has been sold to ensure general admission seating will be available. Once the rink has reached capacity, gates will close and only those with hand stamps will be allowed in and out of the arena.